Heading to an extreme environment like Aconcagua for two weeks is no easy task. Having the right gear for your Aconcagua expedition is a serious component to success and a small error could quicky turn you around.
When you've been training a long time, and you've invested a lot of money, not only is that not the idea, but it's also not safe! Here's a thorough list to get you started.
You'll face diverse and extreme climates while on your expedition to Mount Aconcagua.
The first couple days trekking into base camp will have heavily beating sun during the day (ex:15C/50F), but chilly nights. At base camp, 4300m/16,000ft, it will be cold to moderate temperatures during the day (ex: 0C/30F) and but cold nights / mornings. And, remember, in the mountain conditions can change in a second!! Heading from basecamp to summit, temperatures will drop quickly (ex: -15C/5F), and summit day even in mid january / middle of summer, can be -30C/-25F.
For example, when I checked the weather a couple days before beginning my Aconcagua expedition, it was forecasted to snow 30cm / 11inches for various days towards the summit. During our time on the mountain, our summit was pushed back due to winds of 70kph / 40mph. Others I know have climbed with no snow. That said, you need to smartly pack your layers and be prepared for it all!
Here's a pretty comprehensive Aconcagua gear list, that serves for basically any mountain of higher altitude. When going to other mountains, the only things that will vary are how many of the base / mid layers you need or if the third layers are necessary.
If you still haven't heard of my greatest exoedution to the highest summit in the western hemisphere – dive in to this advanture.
"Having the right equipment is essential to arriving to the top, and back down, safely and comfortably. Carrying the weight of what isn't needed makes you slower, more tired, and stresses your body. But you can't afford to not have something when it's needed.

Having the proper gear in your backpack is in direct coorelation to how well you planned.

Chelsey Berg
Aconcagua Expedition Clothing
When going to the mountain, smart layering is the key.
Base Layer Top – light and medium weights
Insulating Second layer tops – medium wieght
Fleece Jacket
Soft Shell Jacket
Expedition Down Jacket
Base Layer Bottom – light and medium weights
Soft Shell Pants
Shell Pants
Expedition-Weight Pants
Underwear and sports bra
Fleece Gloves/Glove Liners
Expedition Gloves
Summit Day Mittens
Hat
Lightweight & Heavyweight Balaclava
Buff / Bandanas
Gaiters
Sneakers for river crossing
High Mountain Boots
Double Boots
Crocs for in camp comfort
Heavy socks  / liner socks
Sun Glasses Level 4 protection
Snow Goggles Level 4 protection
Aconcagua Expedition Climbing Gear
The Normal Route of Aconcagua is a non technical route, so there's really no need for a harness or rope. Crampons and piolet are essential because you don't know what weather you'll get, or how the snow will be when climbing up through the shoot.
Trekking Poles
Carabiners
Climbing Helmet
Ice Axe
Crampons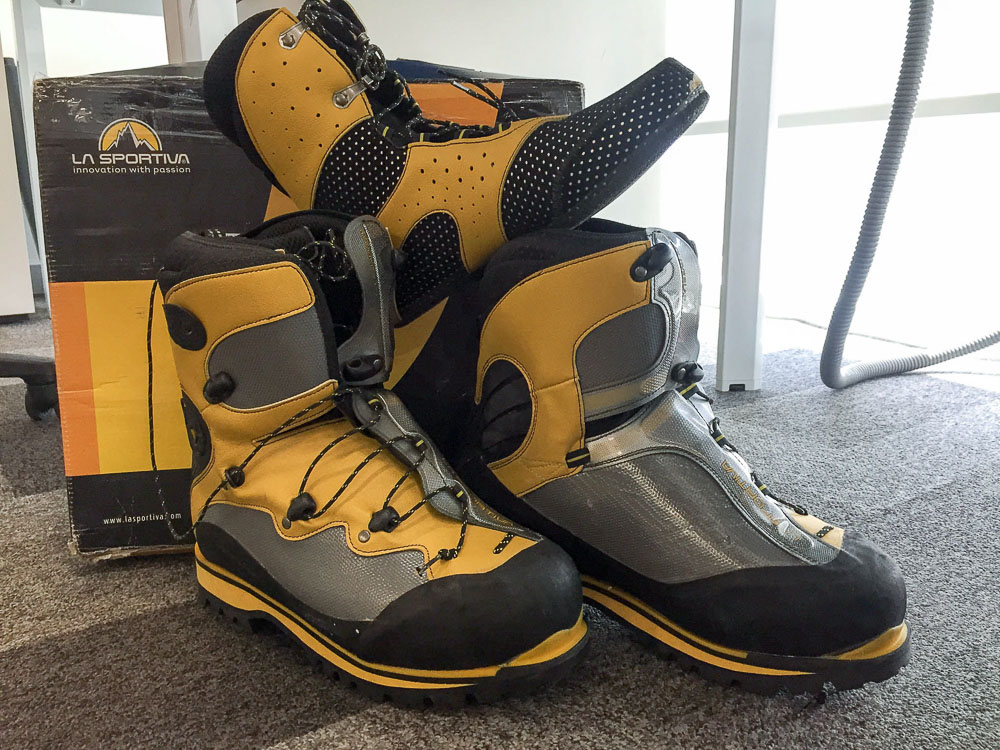 Aconcagua Expedition Sleeping Equipment
You need to be protected from the elements so your body can rest and recover each night.
4 season tent
4 season tent kept at base camp – optional
Sleeping bag for at least -20 degrees C (I use the Marmot Never Summer)
Sleeping bag liner for extra warmth
Vivac (sleeping bag cover for extra warmth) – optional
Sleeping pad
Mat (isolates sleeping pad from ground)
Aconcagua Expedition Accessories
If using mules to base camp, make sure to identify what you'll need during those first few days. The rest can get packed directly in a separate duffel bag.
Duffel Bag
Nalgene
Nalgene parka, necessary to keep your water from freezing!!
Camelback (perfect for lower altitudes but will freeze in colder conditions)
Thermos
Mug
Spoon/Fork/Knife
Bowl
Stove
Stove for high altitudes (MSR)
Gas / Gasoline for the MSR stove
One or two cooking pots
Hand and Toe Warmers
Solar Charging Panels
Portable battery chargers with cables
Front Head Lantern
Extra batteries
Camera with extra batteries
Little ropes
Face Sunscreen 50
Other sunscreen
Tooth paste / tooth brush
Wet wipes
Hand Sanitizer
GET MOUNTAIN GUIDE RECOMMENDATIONS
Send me a message and let me know what country you want to climb mountains in. I'll send you contact information of certified guides I trust.
Aconcagua Expedition First Aid Kit
You always need to be prepared with a good first aid kit. In Aconcagua you are facing high altitude and body fatigue for up to two weeks.
Tylenol, Ibuprofen, Aspirin
Benadryl
Immodium
Acetazolomide (Mountain / Altitude Sickness)
Anti-nausea
Amoxicillin (sore throat medicine)
Adhestive temporary stitches
Serum
Iodine
Ace Bandages
Adhesive tapes
Bandaids
Gauzes
alcohol pads
Tweezers
Blade
Emergency blanket
Purpose-driven people who feel compelled to make life meaningful for yourself and others.
Outdoor-inspired people whose best self comes alive when experiencing beautiful places and pushing your limits in the open air.
https://www.youtube.com/watch?v=o5VBxBoZRa4
FIND YOUR NORTH
EMBRACE YOUR NORTH
LIVE YOUR NORTH