San Pedro de Atacama is a little town in the middle of the driest desert in the world. So arid, in fact, it's been said to have Mars-like conditions (yes, the planet!). There are many Atacama desert tours that'll make your time here unforgettable, including some of the best stargazing in the world!!
After 5 long years, my parents were coming to visit me in Chile and I was racking my mind thinking about the best places to take them. We had two weeks and I wanted to design the perfect trip. After a lot of thought, I chose a comibination of the north, the south, and a few days in Santiago… for a total "real Chile experience." We had 5 days in San Pedro de Atacama (northern Chile), followed by 4 in Puerto Varas (southern Chile).
We had a great time in San Pedro de Atacama!!
Transfer from Calama to San Pedro de Atacama
Our plane got into Calama at 7:30 pm, so I had planned on us getting into San Pedro de Atacama relatively early, bumming around town, and having dinner. A generally relaxing evening to kick off the trip. Well, upon arrival I remembered that San Pedro is a really remote place that runs on another rhythm.
In the Calama airport, you can either take the public bus, a shuttle transfer or a private taxi to get to the town of San Pedro de Atacama, about an hour away. The bus is the cheapest option (3000CLP / 5USD), but it has limited hours and only runs until 6:00pm. We chose to take the shuttle transfer which was 12,000CLP / 20USD one way or round trip for 20,000USD / 32USD.
We had to wait quite awhile for the company to round up enough people for the transport but finally made our way to San Pedro de Atacama. We turned on an isolated pitch black road and wound up at our Hostel "El Amigo Lucho". We opened the gate and were greeted by Lucho, the owner himself. In a stroke of good timing, he was just heading out and offered to drop us off at the end of the road. We left our bags and hopped into his truck, off to get a bite to eat in town. It was just an 8-minute walk, but hey, it was still appreciated!
By the time we were having dinner, it was 11:00pm and the kitchen was going to close, so we ordered a quinoa salad, a delicious sweet/salty stone oven-baked pizza topped with blue cheese and quince fruit … and obviously some beers. Cheers!! Vacation started.
Even though it was way dark, just walking the downtown streets of this 5,000 person town gave a fun, positive vibe for the days to come. I guess, however, it would have been impossible to be any other way, as, after all, there I was, cheers-ing my beer with my mamá and my papá.
My "Word Cairns" newsletter sends inspiration, tips, stories, and photos from wild corners of this world. Plus, you'll be the first to know about new expeditions, activities, and special offers.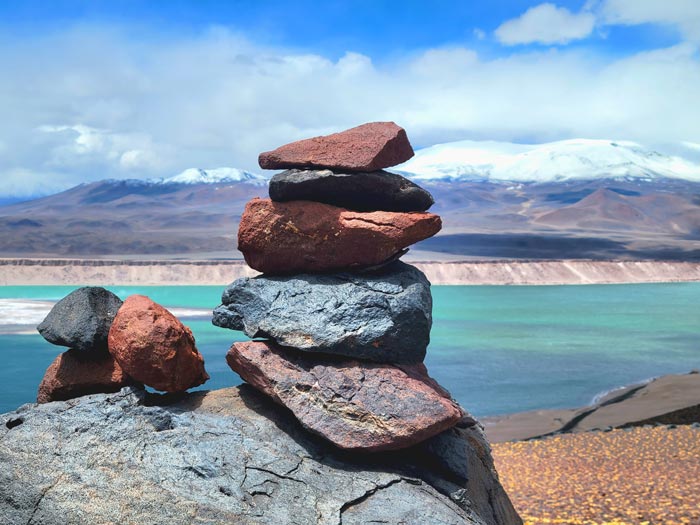 San Pedro de Atacama – the little town itself 
We woke up and had some fruit and crackers with our coffee at our hostel for breakfast. After a leisurely morning, we walked into town to check it out in the daylight and, of course, start picking up some souvenirs 🙂 San Pedro is a dusty, adobe constructed little town that lives off its Atacama Desert tours. The main streets are lined with tour agencies, restaurants, pubs, and local artisan craft stores.
San Pedro de Atacama is a tiny, dusty little town that packs its punch.
The art/culture in this area is very different from that of other parts of Chile since this area was actually originally part of Bolivia until the late 1870s. The indigenous tribe of this region, the Atacameños, are more familiar with the Aymara and Quechua in Bolivia and Peru than they are with the Mapuche, the main indigenous tribe Chile (in general, more in southern Chile). That said, the colors, the fabrics, the materials, the art and the culture in general is very unique to this Andean part of South America.
Average rainfall is just 15mm (0.6in) per year… with some places receiving just 1-3mm (.04-.12in). And, history says that some parts of the desert have never received rain. That's crazy! This aridness is because the desert is precisely situated between two massive mountain ranges – the Andes and the Coastal Range.
"San Pedro de Atacama is a little dot in the middle of the Atacama Desert, surrounded by many 20,000ft+ colorful, mineral rich mountains, lines of towering volcanoes, salt flats, geysers, hot springs, and all types of rough, raw nature. The Atacama Desert is the most arid, and one of the oldest, deserts in the whole world.

Chelsey Berg
The Atacama Desert is little bit like Mars.
One of the reasons I wanted to bring my parents to San Pedro de Atacama, and why it's a great place to visit, is because no matter what, it's got the WOW factor.
No place has the geography of San Pedro de Atacama. In fact, it's so unique, that a certain part of the Atacama Desert has been scientifically linked to similarity with Mars. Yes, Mars, the planet. If you've watched movies that have scenes of Mars/space, there's a good chance those were filmed in the Atacama Desert.
The Atacama desert has been scientifically linked to similarities with Mars. It is the most arid, and one of the oldest, deserts in the world.
There's a region of the Atacama Desert that has had its soil compared with the soil on Mars, and tests that have been done by the Viking Mars landers' to detect life have been replicated on these soils. That said, this region may actually be unique on Earth in this regard, and will be used for future Mars missions. Pretty cool!!
On all Atacama Desert tours you'll have great views, but each one offers a different angle. The Valle de la Luna / Moon Valley tour is the typical sunset one, Valle de la Muerte / Death Valley is similar, with the bonus that you can ride a bike there, and I personally really liked the salt caves tour because it shared a lot of more geographic and scientific information.
Atacama Desert Tours for Stargazing
Altitude + extreme aridness + low interference = NASA level star gazing (literally)
The altitude of San Pedro de Atacama (2408m/7900ft above sea level) and its extreme aridness (which means there's basically no clouds), mixed with the fact that it's in the middle of nowhere (which means that there is very low light/radio interference), makes it one of the best places in the world for stargazing and astronomical observations.
In fact, it is home to major European observatories and also the most advanced telescope in the world, known in Chile as ALMA – the Atacama Large Millimeter Array. This telescope was built by Europe, USA, Canada, Chile and Japan. It's a mega telescope that sees what telescopes have never before been able to see.
The Atacama Desert Stargazing Tours are literally, NASA level.
ALMA operates as a little site in the middle of the Atacama desert and visitors can take free tours. Unfortunately, this was something we did not get to do, and something I definitely need to go back to experience. Thankfully, when my friend Raphael from Journey Wonders went to San Pedro de Atacama, I gave him the heads up so he wouldn't miss it. In return, he shared this amazing picture with me.
Check out the link to ALMA and see what kind of observations are happening there. It's literally… out of this world! (bad pun, I know, but I couldn't help it, haha).
There are various Atacama Desert tours for stargazing, and the ALMA tour is just one of them. There's another you can book in town with a tour agency, which includes a glass of wine and a more typical stargazing experience.
Your only problem with Atacama Desert tours…
is that there's so much to do in San Pedro de Atacama that really, your only problem will be deciding how to cram as much as possible into however many days you have.
Purpose-driven people who feel compelled to make life meaningful for yourself and others.
Outdoor-inspired people whose best self comes alive when experiencing beautiful places and pushing your limits in the open air.
https://www.youtube.com/watch?v=o5VBxBoZRa4
FIND YOUR NORTH
EMBRACE YOUR NORTH
LIVE YOUR NORTH