Located in Southern Bolivia, the Uyuni Salt Flat is on the border of Chile and Bolivia. Almost every South America backpacker has Uyuni Salt Flat tours on their list. And reasonably so. It's literally tons of salt. Over 4,000 square miles of it. Over 10 billion tons of it. And while that may not seem so immediately interesting, that vastness gives you those amazing perspectives and reflective pictures like no other place can. Bolivia can be tricky, so here's the low-down on Uyuni tours.
How to get to Bolivia's Uyuni Salt Flat
From Bolivia: If you're already in Bolivia and seeing all the amazing and diverse geography that this country has to offer, you can get a bus from La Paz or virtually any other town. From La Paz, Bolivia's capital, it is about an 11 hour trip. Overnight is perfect since you can sleep on the bus.
Uyuni Tours Tip 1 – do the three day tour
There are various Uyuni tours to choose from, depending on your time frame. I recommend going all out because there really is more to the Uyuni tours than just the Salt Flats themselves.
We did the three-day tour and it was awesome and really unique. If I would have just done the one day tour, and heard people's stories about the three day tour, I would have felt jealous. So, just do it!
Regardless, these are your typical options for Uyuni tours:
One Day Uyuni Salt Flat Tours: You start and end in Uyuni, heading to tour just the Uyuni Salt Flat. You'll make a stop at the train cemetary, visit the Salt Flat for your epic, mess with your perspective pictures, head for lunch at the Cactus island, and then go back to Uyuni.
Two Night, Three Day Uyuni Salt Flat Tours: Here you have various options. You can arrange to start and end in Uyuni or you can get off early and end in San Pedro de Atacama, Chile. You don't miss out on anything by getting off early and hopping the border to Chile.
Day 1 of Uyuni Tours
Very beautiful lagunas and colorful rocks
The first day you go to a bunch of very beautiful lagunas. They are relatively small pools of water dotting the desert floor, holding the reflection of the mountains in the back and with many with flocks of flamingos slowing grazing through. It was so picturesque. They were all different colors, carrying the pigments of the various minerals around them.
There are various lagoons. One green one and this red one. In both, you see many flamingos eating the critters in the salty lakes.
Then, you head to a couple of spots with absolutely humongous rock formations. One was volcanic rock and the other was simply huge regular rocks. While I know that doesn't sound too enchanting, the various shapes in contrast to the magnificent background was terrific.
Huge rocks may not seem so cool, but once you see their massive sizes and odd shape formations, you'll be impressed.
That night we stayed in a hostel in the middle of the desert. Not gonna lie, the hostel was freezing. Typical of Latin America, there is no centralized heating, not even in the middle of the frigid desert. We drank hot tea, stood near the wood burning stove, and talked with other travelers until we hit the sack (under 10lbs of blankets).
Day 2 of Uyuni Tours
Geysers and hot springs and a hotel made of salt, oh my!
In the morning, we got up at 4:30 am to head to the geysers. Why so early? You have to get there before the sun comes up in order to see the true effect of their rising. We thought the night was cold, but that was nothing compared to 5 am! We snuggled together in the bumpy Jeep until we got there. Our fingers were numb, but we walked around, content with the landscape in front of us.
Small streams of steam were starting to smoke from the ground. With every millimeter that the sun rose, the stronger the geysers did the same. Once the sun showed its orange/pink rays over the sand, they really started boiling. The steam, the sun reflecting over the mountainous sand, and the interesting shadows – even while feeling like an icicle, it was a sight to behold!
Next we headed to the hot springs. It was still freezing and most people didn't want to go in. But, I love hot water!! It felt better than words could describe!
After a morning freezing at the geysers, these hot springs were DA BOMB DIGGITY!
That night we stayed in at a hotel made of salt. The beds were salt blocks, the tables salt blocks, the walls salt blocks – you get the idea. There were maybe 10 other people staying at the hostel, a couple of older Bolivian brothers, a girl from Colombia traveling with a friend from France, and a newlywed couple from Australia. We had tea and dinner together around the table, sharing stories of our different cultures. Isn't that one of the best parts of travel?! 
Day 3 of Uyuni Tours
Finally, the Uyuni Salt Flat!
The last day we eagerly made our way for the Uyuni Salt Flat tours, chit-chatting like little girls about the photos we wanted to take. Driving for hours on the white desert floor, contrasted sharply by the bright blue sky, it was hard to believe that this once was a huuuuge saltwater lake.
One of the coveted pictures is when the wet floor of the salt flat gives a miraculous mirror-like reflection. We visited the Uyuni Salt Flat during late march, which is the end of rainy season, so we still had some parts with little water pools. It caused crazy reflections of the fluffy clouds above. The jeep driver was really friendly and stopped often so we could get out and take fun pictures in different places.
Mini tip:
Rainy season is November – March. Go towards the end and you'll still get some refelctions, but won't get flooded.
After doing all the typical Uyuni Salt Flat pictures, you will stop at Incahuasi Island for lunch. It is covered with giant cactus, some over 20 feet high! The island is pretty hilly and at the top, there is volcanic rock, coral, and remnants of the algae. Pretty cool to think about how this world transforms!
You have a good chunk of time here, to eat, to go hiking around the island, and to take pictures with llamas. For money of course! But, the island is quite unique and worth walking around. So, don't just stay by the jeep eating that lunch, yo! Get movin!
Very happy with our Uyuni Salt Flat Tours, we made our way back to the village, had dinner, and laughed about how the trip had started so incredibly wrong, but ended so incredibly awesome.
On the way out of the Uyuni Salt Flat, we saw a bunch of salt triangles. Turns out that people scrape the salt into these shapes so that they can dry, and then the salt is taken for processing. Interesting to learn how the salt makes it to our tables, huh?!
Uyuni Salt Flat Tours Tip 2 – Buy a toy for epic pics
Stop and buy a toy, it makes pictures so much more fun!!
We hadn't thought about this ahead of time, but thankfully, we met a cool dude who did. Raphael from Journey Wonders, had boughten a little llama and kindly offerent to share. That made our pictures so much more fun. Thanks, Raphael!!
Uyuni Tours Tip 3 – don't book from La Paz
Here's a story of "what could possibly go wrong?"
Normally when backpacking, I don't book anything ahead of time. Because you know, things happen! Busses break. You meet a fellow backpacker that tells you about a really cool place. You love a place and stay an extra day. And so on!
It's good to have a mental "North" and a general idea of what you want in your itinerary, but the booking and exact decisions are typically best made when you've arrived to your destination.
Anyways, I went against my best judgment because I had my best friend with me and that extra pressure of "what if there are no tours available?" got to me. The tour agency in La Paz did their selling job, and, not wanting anything to go wrong with my friend alongside, the paranoia won. I don't know what I was thinking!!
So anyways, we booked our Uyuni Salt Flat Tours from La Paz… and this article is also meant to help you benefit from my mistakes.
The bus left around 8 pm at night and our Uyuni tours started at 11 am. So, that gave us a good few hours of "Bolivian Bus Time" wiggle room. Or so I thought.
Again, if there was ever a time to change my tour booking strategy… Bolivia, of all places, is NOT the place to do so. Why? Because, well, Bolivia happens. And I'm not saying that in a snarky voice. It's not against Bolivia. But the reality is that things happen on their own pace and in their own way.
So, what happened? Well, it was a typical bus ride, bumpy, cold, people talking loudly, neck cramping… you know, the routine.
But, then, about 4 am the bus stopped. I was dozing in and out of sleep but realizing something odd was happening. An overwhelming gas smell crept into my nose. Something broke in the engine, but, no problem!! They told us a new bus was coming with replacement parts so that the guys could fix it!!
I went back to bed. Brrrr… we were in the middle of the desert. It was freezing but I slept another couple hours until the air started getting stuffy. I got up and went outside for some fresh air. The drivers and a couple of local passengers had climbed down the mountainside and gathered branches to make a fire. A bunch of people were standing around it to keep warm.
I went over and found out the bus with the part was coming from La Paz, a good 7 hours away. What?! But, ok, relax I told myself! We'd still arrive in time before our Uyuni tours started at 11am.
Around 6:30 am I went back in the bus for a little more shut-eye…. along with most of the passengers. Shortly thereafter an Israeli couple I'd met out by the bonfire woke me up with horrible news.
The driver and all the employees had jumped in a passing truck, leaving us all stranded! Uuuugh. Now this wasn't the start we planned.
That meant that maybe a bus was coming for us, but then again, maybe one wasn't. If it was, I guess the bus bringing the part would have to fix the engine and drive the bus to Uyuni Salt Flat.
If a bus with replacement parts wasn't on the way, I knew that, eventually, the bus would have to get picked up. But, surely, all 60ish of us passengers needed to get out of the desert ASAP. Teresa and I had our Uyuni Salt Flat tours booked!! Case in point, don't book your Uyuni tours until you get to Uyuni!
A pit stop in Potosi, Bolivia
That said, we decided the quickest way out was with the thumb. I chatted with one of the local Bolivian ladies, in her beautiful traditional clothes, because she too was going to hitchhike. We decided to tag along with her and within about an hour, a truck passed picked us all up.
Plans changed. We obviously already weren't on schedule to get there in time for our Uyuni tours. And, on top of it, the truck was heading to Potosi, not Uyuni. Hmm, let's just consider this the scenic route.
We got in to Potosi, an important Bolivian mining town, absolutely starving. We booked the next bus to Uyuni and then went on a mission for food.
We found a great spot, and for about $2.50 each, we got the typical menu del dia (menu of the day). It was a drink, soup or salad, bread, main dish with two or three options, and dessert. I ordered stuffed chicken, mixed veggies, and potatoes, and Teresa ordered tongue, chicken, and sautéed veggies. Both were good, but the soup was DELICIOUS! It's a traditional spicy peanut soup with cilantro. Mmm, writing this makes my mouth water!
We finally got on a bus, from Potosi to Uyuni Salt Flat, and it  was rough. Busses from La Paz to Uyuni are typical travel busses. The busses from small towns are not meant for such long rides, and the ones from Potosi are used by miners getting to and from work. It was obvious that national budget was not invested in local transportation.
It felt like the bus would fall apart any minute, racketing constantly. We got on the bus, looking for our seat but someone was sitting in it. Maybe it was different here, I thought. Maybe they don't use the numbers. But then another girl came on and said we were in her seat. I explained to her that someone was in ours. She looked and said, "oh, no, they're empty. That's just a mamita waiting."
Mamita is one of the older indigenous ladies (papito es an old indigenous man). I learned they don't buy their seats and they sit in a seat if it isn't full. But, if the bus is full, then they stand or sit on the floor. It was hard for me to continue to think about this division in society about the difficult lives led by these people. But, that's another post because this one will be long enough!
But we finally arrived, and better late than never, eh?!
We got into Uyuni about 4ish. It was a small, dusty village. We went straight to the agency we booked our Uyuni tours with in La Paz and arranged to start the following day. We got a hostel and then went out to dinner, bundled to the max in the cold desert. The main plaza was quite cute and we ate at a busy place on the square.  The entire village of Uyuni was without power, so each table had a candle.
When we came, the girl brought us menus… and then left. About 20 minutes later we grabbed our own candle because it was obvious she wasn't coming back any time soon. After maybe 1/2 hour she came back and took our order. We probably should have took the sign and went to another place. We had to change our order a couple of times because they didn't have most of the stuff on their menu. In reality… it seemed like they just didn't want to make those items because, for example, they "didn't have" quinoa until we were debated on going somewhere else. Then, they magically had a little bit left. Sigh.
Anyways, the food finally came and it was pretty good. We were ready to go and asked for the check. Then, she helped someone else. Then, she cleaned an empty table. Then, I reminded her for the check. Then, she went and helped someone else. Then she went back to cleaning the table. Then, I asked again for the bill. Then, she went to the kitchen. Then, she went back to cleaning the table…. after 5x of asking, we just put money on the table and left. Definitely frustrating! In the end, most service isn't like this and we probably just didn't luck out with a good waitress, or maybe she was having a bad day. But, those are typical problems one faces when traveling. Patience and tolerance!!
My "Word Cairns" newsletter sends inspiration, tips, stories, and photos from wild corners of this world. Plus, you'll be the first to know about new expeditions, activities, and special offers.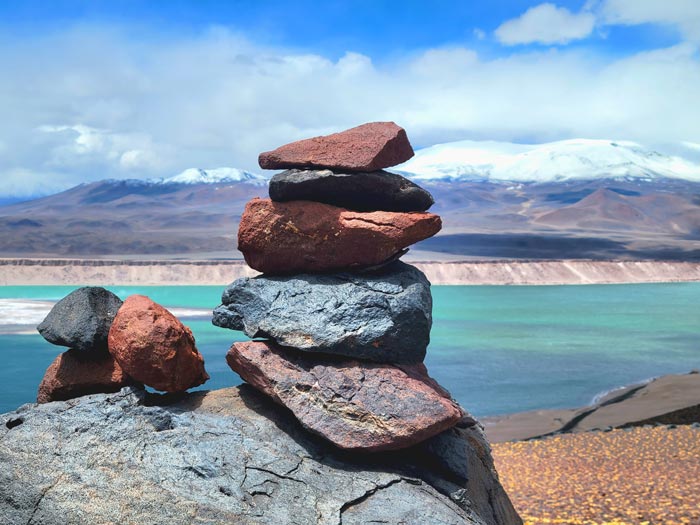 Tour Bolivia off the beaten path
Check out the rest of my articles on Bolivia
Bolivia is a geographically diverse country with so much to explore. Browse around, get adventerous, and set your "what not to miss in Bolivia" list!
Purpose-driven people who feel compelled to make life meaningful for yourself and others.
Outdoor-inspired people whose best self comes alive when experiencing beautiful places and pushing your limits in the open air.
https://www.youtube.com/watch?v=o5VBxBoZRa4
FIND YOUR NORTH
EMBRACE YOUR NORTH
LIVE YOUR NORTH