Cerro Pintor and Cerro La Parva in Farellones are the closest 4000 meter (13,000 foot) mountains to the Santiago area. They are low technical climbs that just require some good physical capabilities and a strong mind. The best place to start the climb is from the La Parva Ski Resort.
In the photo above you can see Cerro El Plomo (with the glacier), Cerro Leoneras to the left, Cerro Pintor (the colorful one in the back, ) all from the Cerro La Parva summit.
Like many other budding mountaineers, these mountains were my first 4000 meter mountains and hitting that milestone was as spectacular as it was exciting. I was preparing to climb El Plomo and had 3 consecutive weekends planned – Cerro Pintor (4000m), Cerro Leonera (5000m), Cerro El Plomo (5424m).
Not having gotten out of Santiago in quite a while, taking an overnighter below the mountains and camping next to the laguna under millions of stars was just what the doctor ordered.
Update 4 years later: I have now climbed these mountains dozens of times as their close proximity to Santiago and elevation make them ideal for training and altitude acclimatization!! These mountains are often used by climbers getting ready for El Plomo, Aconcagua, Ojos del Salado, the Cordillera Blanca in Peru, Tupungato, Marmolejo, and other high altitude mountains. So, the info in this article is regularly updated with current conditions.
During summer months, mountain bikers often use these slopes for extreme biking and practicing tricks.
Cerro Pintor & Cerro La Parva in Stats
Altitude: 4,180 meters; 13,713 feet (Pintor) / 4,047 meters, 13,227 feet (Parva)
Elevation gain: Around 1,480 meters, 4,855 feet
Beginning point: La Parva ski center
Time: 5-6 hours round trip if you can use the ski lift; 7-9 if you cannot
Friday morning we made our way to Farellones and parked just past the La Parva Ski Resort, at around 2700 meters of altitude.  Having only come to this area during the winter for ski season, it was so strange to see it under different conditions. There we were walking over dirt, some snow, and lots of mud when just a month and a half before it was all white, from a 360 perspective, and filled with snowboarders and skiiers zig-zagging down the slopes.
Along the way, we met a handful of people en route to Cerro El Plomo, 5,424 meters (17,795 feet), and other mountaineers who were training and acclimatizing.
Ski resorts aren't so beautiful without snow, so take the ski lift if you can! La Parva offers it's lift during some off season months.
The ski lift was not open so we had to walk the first part, which, during the summer, you can hitch a ride!! It took about 2 1/2 hours to get to the laguna. Laguna Piuquenes sits at 3500 meters and is a beautiful little gathering place, and it slows your beating heart as you stand there to take in the sight.
Free Tool: Give Notice Before An Outdoor Activity
Before going to the mountain, or doing any outdoor activity, it is important to give notice. This ensures that you can effectively and efficiently be found in case of an accident or emergency.
This tool lays out what critical information needs to be included and has a PDF you can easily fill out and send to your emergency contacts.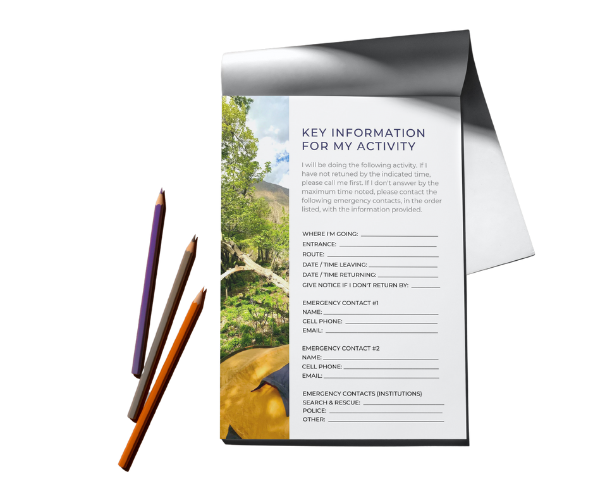 Checkpoint #1: Laguna Piuquenes
From the lagoon to Cerro Pintor it is 2-3 hours depending on your pace. We were spending the night, so, while we could have easily climbed up and back down, we decided to simply relax and enjoy the spot. This turned out to be a lovely decision. This mountain is typically done in a day but depending on your schedule, the lagoon is a great campsite!
We walked around, down to and around the valley, sat next to tiny "river" formed from the melting snow, felt the sun on our faces, and chatted. Then, we headed back to the tent and did the same next to the laguna. There were spurts of wind and then moments of complete stillness, during which the most magnificent reflection of the mountains above painted the glass-like laguna below.
The fantastic thing about being in nature is it truly forces you to unwind, feel, and focus. In the beginning, sometimes it feels like, "it's 1:30, what the hell am I gonna do till it gets dark and I go to bed?" And then, the time passes. And it feels so good. I haven't relaxed like that, totally unplugged, totally unmoving and quiet, mind shut down, for a looooong time. Uuuuuf, I hadn't even realized how much I needed it.
The little stream that was flowing a few hours before had now quieted down with the setting sun no longer rapidly melting the mountain snow. This meant that the sediments on the ground could settle and we could fill our water bottles.
We boiled noodles for dinner and mixed a soup packet with a little water for a ravioli with mushroom cream sauce dinner. Mmmmm, talk about mountain gourmet! Well, unfortunately, rocks aren't perfectly sturdy (what, who knew?!) and, out of nowhere, our little burner with the pot of boiling water tipped over. About 2/3 of those raviolis were now wearing a creamy dirt sauce. Talk about delish. Thankfully some stayed in the pan and some others were salvageable. Those ones that weren't completely submerged in dirt could be rationalized after a good rinse. haha!
After dinner and tea, we relaxed a bit under the unimaginable quantity of stars lighting up the black sky. It's funny because my eyes always subconsciously search for the big dipper. Then I need to remind myself that the southern hemisphere doesn't reveal the constellations in the same way. That constellation was always my pride and joy, the only one I could ever really find on my own without an exaggerated stretch of the imagination.
Anyways, not too long after, I crawled into my brand new sleeping bag, excited to see if my expensive purchase would keep me snug and warm.
Well, as I kept zipping, the mummy bag enveloped me tighter and tighter… until my head was pressed into the hood and my toes were at a nice upward stretch. Yep, my sleeping bag was too short. Like, juuuust too short. I mean, I'm tall, but averagely tall. I hadn't even thought about length when I bought it.
I had just decided on the one I wanted and then, naturally, bought the women's version. The women's versions of sleeping bags have a little more room in the hip area and offers a couple more degrees of comfort. Well, when I checked the tag the next morning, it explicitly stated it was for 5'6″… and I'm a bit over 5'7″. Note to self, tags exist for a reason and it's good to read them, especially when you're buying a $150 sleeping bag.
"If you're going to camp, bring a good camera for the stars! Or at least learn to use the night settings on your phone. Make a hot chocolate, bundle up, sit outside and enjoy the view a bit before calling it a day.

Chelsey Berg
Checkpoint #2: The False La Parva Summit
The next morning we woke up, made oatmeal with almonds and bananas for breakfast and started to make our way up. The stint from the lagoon to the false summit is one of the steepest of the entire climb. When it's not covered in snow, it's a highly sedimentary rock path (acarreo).
Leaving Laguna Piuquenes and heading towards the mountains …. full "acarreo"
Once you get to the false La Parva summit, you have a nice flat path as you cross the mountain. Here you are extremely exposed to the wind, which can get incredibly strong. At one point you get a magnificent view of Cerro Pintor with Cerro Leonera and Cerro El Plomo towering behind it. It's an amazing panoramic!! Cerro Pintor (Painter) gets its name because its face is many different colors.
On the top of that steep climb, you get to the false summit of Cerro La Parva. You can see the route to the real summit behind.
Checkpoint #3: The summits!
If doing both summits, Pintor and La Parva, you can decide which to do first. You'll pass La Parva on your right and it's just a short trek up if you want to do it on your way to Cerro Pintor. This summit offers a nice perspective on the valley below, with many streaks of tan, red, orange, and green mountain dirt. Simply lovely.
The summit of Cerro La Parva, to the left Cerro Pintor and below the colorful valley
Just past La Parva you head to Cerro Pintor, about maybe another 45 minutes. We had lunch on the summit, staring at the Leonera and El Plomo mountains. It's fun stare from afar at mountains that you've climbed, imagining when you were lucky enough to stand on their summits!
The summit of Cerro Pintor, you see the route to Cerro Leoneras below, with a great view of the immenseness of Cancha Carreras!
Heading down these mountains was a breeze and we just took a mini pit-stop at the tent to eat, break down, and soak our feet in the ice-cold mountain snow water laguna.
How do you get to Cerro Pintor & La Parva?
In your own vehicle: Head out of Santiago on Avenida Las Condes and continue straight, following the signs that direct you towards Farellones and the ski centers. Once you enter into the area, you have around 30 kilometers and 40 curves around the mountain!! Nausea is very real, so I don't suggest reading if you're in the passenger seat! During the summer, beware of cyclists!! Bikers often use these mountain curves for training during the summer, spring, and autumn.
Once you arrive to Farellones, you continue until you get to the La Parva Ski Resort. Up further are the El Colorado and Valle Nevado Ski Resorts. The La Parva area has a cute "small town" feel. If you're there in summer, you can drive up to the Águilas ski lift and ride up to Laguna Piuquenes. If its winter or outside peak summer months when the ski lift isn't available for mountaineers, you'll need to park in a public space and begin walking from there.
If you go after June and throughout the winter, you are obligated to have chains for the tires. The police offers will not let you pass without them!
When can you climb Cerro Pintor & La Parva?
You can climb these mountains year round, depending on your mountaineering level, physical capability, and equipment. If you come during summer months, the La Parva Ski Resort offers a discounted price for using their ski lift and riding up to their highest peak. This saves a good couple hours of climbing up the ski slopes that may look gorgeous during winter when covered in snow, but not so much when just plain, hard, brown floors. The sun beats heavily during summer and there is no water, so make sure to bring appropriate sun block, clothing, and water. Also, once you pass the Laguna Piuquenes, the wind tends to blow stronger as these montains don't have much coverage.
If you climb during winter months, you will not be allowed to use the ski lift even though it is running for skiiers. You will have to walk on a route that is off the ski slopes, which can be pretty tiring. If snow has fallen recently and hasn't been packed down, you'll skin in constantly and already have worked up a good sweat and heart rate by the time you get to the Laguna Piuquenes. Snow shoes or randonee are important options for winter time. These two mountains are very exposed and do not have many other mountains protecting them, so the wind blows heavily during winter. This gets exhausting and very, very cold. Even in early June, before winter has even started, I have had -15/20C days with winds that had me doubling over.
Purpose-driven people who feel compelled to make life meaningful for yourself and others.
Outdoor-inspired people whose best self comes alive when experiencing beautiful places and pushing your limits in the open air.
https://www.youtube.com/watch?v=o5VBxBoZRa4
FIND YOUR NORTH
EMBRACE YOUR NORTH
LIVE YOUR NORTH