Chelsey Berg is an adventerous woman who, since she set foot in Latin America while backpacking and fell in love with its landscapes, left her home town and took root in Chile. Today, she's been living in Chile for 6 years and works at a multinational company, but she's not just another foreigner. With over 27 thousand followers on her blog on instagram, Chelsey has taken it upon herself to spread her love for the mountains. She has already climbed the tallest mountain in this hemisphere, Aconcagua, and isn't stopping there. She's currently part of the Chilean expedition to Mount Manaslu (8156 meters / 26,759 feet), the 8th tallest mountain in the world, located in the Himalayas, which takes off in August of this year.
With an accent still woven with a little English, she told us all about her experience, her secrets to always keep moving forward and, more than anything, she showed us through example how a woman can raise the bar and run according to her own limits.
When did your passion for adventure appear?
More than appear, I would say that I was raised with it. In my family, babies are camping before they are walking! That, and the fact that I am surrounded by strong women. My mom, for example, backpacked Europe all by herself after graduating college, back when the calls were expensive and few and far between, not daily and with video, like in my case.
The best life-lesson that the mountain has taught you?
That our limitations are set by ourselves. In the mountain, I overcome the famous "I.Can't.Do.It.Anymore." multiple times in the same route! Sometimes, it is because (I think) my body can't and sometimes it is my mind, but now I know that my real capacity is so much more. I don't let myself fool myself, and when it is necessary, I break down my objective into small wins, until I recover my energy and motivation.
"The mountain always seems huge, but when I just focus on getting to the curve, crossing the stretch that makes me nervous, or getting in 25 more steps… then, I can always do more."

– Chelsey
What is your vision of South America?
Well, after 6 years here, I can assure you that I love it. On one hand, in 2010 when I backpacked South America, I fell in love with its landscapes. I started in the Ecuadorian jungle and finished in the glaciers of Patagonia. I saw that the open air adventures were endless, which is part of what made me return to Chile in 2012. But it isn't just that, backpacking gave me a very beautiful perspective of the different people and cultures, and I wanted to experience it all on a deeper level. I loved that art, music and creativity flowed so freely, even in the streets. When I arrived, I thought it would only be a year, but Chile has treated me very well and I am happy.
My "Word Cairns" newsletter sends inspiration, tips, stories, and photos from wild corners of this world. Plus, you'll be the first to know about new expeditions, activities, and special offers.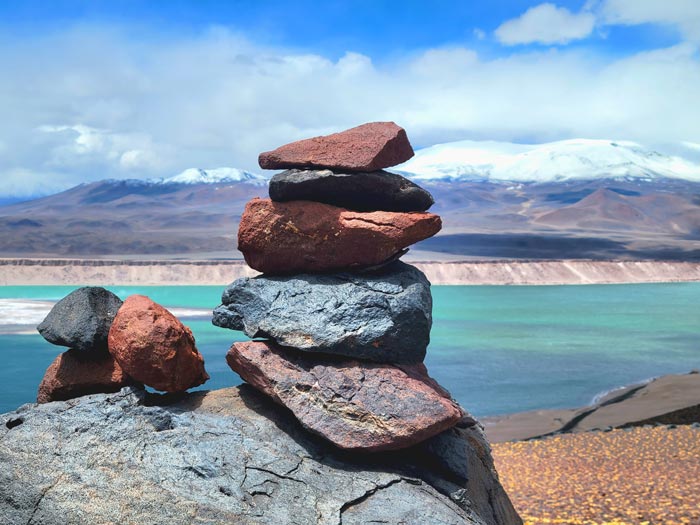 You are a person who is drawn to challenges. What is your biggest challenge, as a woman?
To not wait for perfection before moving forward. I am always looking up at the people who are a million times better than me, and, frequently, I need to remind myself that challenges are personal. Just because there are people so much better and so much more advanced, doesn't null the fact that something is a challenge for me. And in the end, the objective is simply to always be moving forward.
I am so excited to say that this year, I will be climbing my first 8000 meter mountain!! There are 14 mountains in the world over 8000 meters (26, 200ft) and I will be climbing the 8th tallest mountain, Mount Manaslu, 8156 meters / 26,759 feet. I am on a Chilean expedition, together with 4 chileans, and on August 25th we will head for Nepal!! For me, this will be a huge challenge and big step in my life. I've been told that in base camp, I'll be able to count the number of women preset, which is something that has it's share of intimidation as well as empowerment. On my blog, I will be sharing the whole preparation process, so you can follow me there to know how one gets ready for a mountain of that magnitude. Also, we will be organizing public events, with workouts, workshops, routes to mountains here in Santiago, etc.
You have 27 thousand followers on Instagram. What do they all mean to you?
It is very humbling. I started the blog because I love the outdoors and I always have, and always try to, motivate others to get outside more. I feel that people often want to but just don't know how. Considering I am not an expert, that I'm just a normal person with a lot of passion to keep getting better, I thought there was an opportunity for me to bring nature closer to the every day and help it not be so intimidating. The positive reception to my blog has floored me and my followers motivate and inspire me daily, with their messages, support, and more than anything else, when they tell me they went to a place I suggested or that now they ready to tackle something that before seemed unreachable.
What advice do you have for adventerous women like you?
Visualize your objective, even if it seems far off or you don't know how to achieve it. I am a believer in that, if you understand where your "North" is, it isn't necessary to know exactly how to get there, because, in the face of new activities, you just have to evaluate if it's moving you in that direction. In this way, dreams are achievable. Actually, that's the reason I put "Finding North" for the name of my blog.
Must have product in your bag: La Roche Posay SPF 50, with tint. And lip gloss.
Inspirational Mountaineer: I went to an event for "Mujer Montaña" (Mountain Women), which promotes women in mountaineering, and the speakers were the first female expedition to Acocagua. They shared their experience and I was so incredibly inspired, to the point of having glossy eyes during the entire presentation, just hearing about the barriers they faced and their drive to overcome. I was so inspired.
Dream: To always feel passion for what I do.
Motivational tip for when everything seems to go against us: Look for the small wins en route to the final objective.
Beauty secret: During and after outdoor activities, micelar water to wash my face. And, a hat. The hat is the only thing that allows me to look pretty after a week without a shower (laughs).
Being a woman: Is marvelous. There's nothing like girl friends and women who empower other women. And, that's why I love Stampa!
Stampa Magazine is a female led, online magazine that empowers and promotes women without stereotypes.
Follow Chelsey and Finding North on social media
for mountain pictures, outdoor info, and gorgeous spots in Latin America
Purpose-driven people who feel compelled to make life meaningful for yourself and others.
Outdoor-inspired people whose best self comes alive when experiencing beautiful places and pushing your limits in the open air.
https://www.youtube.com/watch?v=o5VBxBoZRa4
FIND YOUR NORTH
EMBRACE YOUR NORTH
LIVE YOUR NORTH