Cerro Manquehue is the tallest mountain in the city of Santiago. It's a classic for city dwellers who want to workout or do a little weekend trekking, given that, in only 2-4 hours, its summit reveals a beautiful panoramic of Santiago. It has an altitude of 1601 meters and can be easily accessed via public transport.
Cerro Manquehuito stands literally right next to Cerro Manquehue. It's a good starting point for beginners, is apt for families, and is also a perfect warm-up before going to summit Cerro Manquehue. There is good signage indicating where the paths branch off.
Summer has arrived and, for many, that means an increase in quite a few things … BBQs, patios, beach, and, my favorite, nature! More time spent outside the house is quite key in my happiness recipe.
Cerro Manquehue is a Santiago classic thanks to its easy access, gorgeous view, and ability to let you escape the city for the morning and return in time for that yummy lunch on your favorite patio or in your friend's backyard.
That said, go for it … and make your heart happy (literally and figuratively) while you enjoy a morning walking amongst the cactus.
Cerro Manquehue via the Vía Roja route, in Stats
Altitude: 1601 meters / 5253 feet
Elevation Gain: 560 meters / 1837 feet
Distance: 5km / 3.1 miles
Difficulty: depends on your physical capability and trekking experience. If you're just getting started, you might find it mid-level or even high difficulty in some parts. If you're in good shape and with some mountain experience, you'll likely find it quite easy.
Time: depending on the above, the average time to summit ranges between 45min – 2 hours, with the way down taking about the same as the way up. Keep in mind that the time can be heavily influenced by summer conditions. Bring extra water, water with cucumber and/or lemon, etc so that you stay refreshed.
Keep in mind the following:
Heat in the summer – The Santiago sun is very strong and the mountain doesn't have much shade. During summer, it's best to climb early to avoid the extreme heat.
Fog in the winter – The summit clouds over frequently in winter, making it easier to get lost.
Water – It's a very dry mountain with no water. This, mixed with the heat, makes it crucial that you bring enough water. I recommend 2 liters if you're just doing Manquehue and an additional one if you'll add Manquehuito or Carbon in the same climb.
Trails – The trail is well marked for Cerro Manquehue and Cerro Manquehuito. Even so, given the large quantity of people who climb with little to no outdoors experience, the mountain has a reputation for getting people lost. Therefore, if you haven't been before, it's recommendable to go on a Saturday or Sunday when there are many people.
Free Tool: Give Notice Before An Outdoor Activity
Before going to the mountain, or doing any outdoor activity, it is important to give notice. This ensures that you can effectively and efficiently be found in case of an accident or emergency.
This tool lays out what critical information needs to be included and has a PDF you can easily fill out and send to your emergency contacts.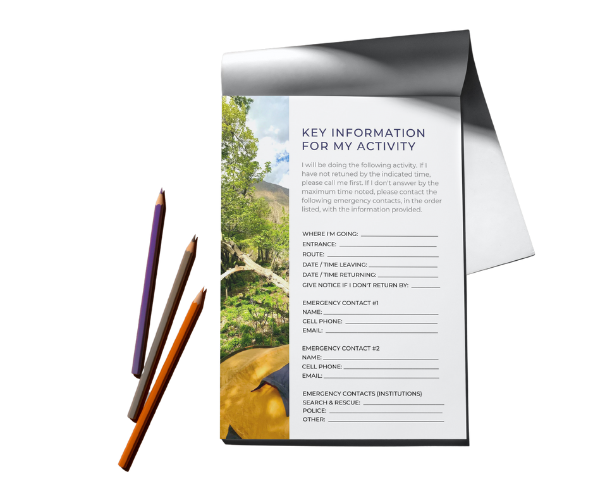 Before climbing Cerro Manquehue
When I go to Cerro Manquehue, there are a few things I never forget to put on or throw in my backpack before leaving the house.
Trekking shoes (at the very minimum, shoes with good traction). The last section is quite rocky and requites a bit of scrambling, and shoes without a good grip will put you at risk for sliding, both on the way up and down. Erosion and heat are enemies of a good shoe grip on this type of mountain, so make sure yours has a good, thick sole!
Sunglasses, sunblock and a hat. Whether it's summer or winter, the sun is intense! Due to the mountain's position in relation to the sun, you have to be really careful with the rays, especially when it hits you from the side. Make sure to protect your legs, neck, shoulders and back.
Water and snacks! I like to take bananas, apples, grapefruit or oranges, but it's all according to your taste buds; nuts and dried fruits work too! Eating complex food (ie: whole foods, not processed things like cookies) is better for your body… oranges and bananas have micronutrients and essential salts that, after more than an hour of intense hiking, rehydrate you and help prevent muscle cramps… a super common summertime injury!
Repack your fruit and nuts! Cut up your fruit before leaving and put it in a ziplock. You can also open your different nuts or dried fruits and make your favorite mix. This will help avoid trash and microtrash that can blow away or get forgotten on the mountain.

Leave No Trace Pro-tip
Climbing Cerro Manquehue on the Vía Roja route
I'm only recently returning to trekking, after 8 months off due to injury, so I knew Cerro Manquehue was an excellent way to pick back up in the mountain and get this body back in shape. Woo hoo!!
Upon entering, we stopped at a small shelter to do some warm-up and light trekking. Sometimes the park administrator will have someone staffed here on the weekends, and they'll ask for your RUT/passport number, make sure you know the route, and have enough water.
There is solid signage indicating the different trails for Manquehuito, Manquehue and mountain bike.
If you head up the Manquehuito trail first, after about 10 minutes of walking you'll arrive to a flat landing and large sign that maps out the park. Here you have a really beautiful panoramic of Manquehue to the left and Manquehuito to the right. From this point, you can head up either mountain. If you take the Manquehue trail right off the bat in the beginning, you won't get to this sign.
If you pay close attention when you're at the sign, there is a conservation area on Manquehuito. Separated by a fence, it's impossible not to see the difference it makes when there's no human traffic – the vegetation is so much denser. I'm a huge ambassador for more people enjoying the wilderness, which is why I'm writing this article, but it's difficult for me to see changes in nature due to our presence and reminds me to be the best "visitor" possible.
To climb Cerro Manquehuito
If you want to climb Manquehuito … from that flat landing and signage point, you'll follow the path to your right and arrive to the summit in 20-30 minutes. There's a white cross where people love to take fun selfies and photos. It's a nice panoramic and you can take a minute to sit, drink some water and eat some fruit before heading back down the same trail. Back at the landing, you can decide if you want to head home or up Cerro Manquehue!
On the left of the landing or heading down from the Manquehuito summit, you'll take the trail towards Manquehue.
You start gaining elevation quite quickly and the terrain is dry and rocky. I brought trekking poles but only used them for the way down. On the way up you have to take big steps up onto rocks and the poles get a little clumsy. I loved being back on the mountain and stepping on ground again, listening to the sounds of nature, and admiring the huge cactus, their beautiful flowers and the bees flying around and pollinating life.
The summit is quite large and has plenty of shade spots to eat, hang with your friends, admire the view or whatever makes you happy. With the best view out of all the Santiago mountains, Cerro Manquehue is an APU, which means that it has religious significance to the local indigenous culture.
Even though there are great views on the way up, it's on the summit that you really get to appreciate the La Paloma and Iver glaciers, the Altar, El Plomo and Leonera mountains, and the San Ramon Sierra (amongst many others). It's a gorgeous 180 degree panoramic that captures the essence of Santiago, a bustling city of millions of connected but disconnected lives, surrounded, isolated and protected by the Andes mountains.
To head down from the summit you have two options- go down via the same trail you climbed up on or go down via other side towards the Cerro Carbon mountain, either simply heading down the trail or completing the crossing by heading up its summit on the way.
If you head down the same trail, you need to go slow and steady, especially if you don't have mountain experience. It is a very slippery slope! The thin layer of dirt over the slick ground and small rocks is a recipe for falling if you aren't careful. Take small steps and look for embedded rocks or roots to help you get a better grip (but always make sure the rock/root isn't loose before putting weight)!
Don't let the incline scare you! Just control your breathing and use SHORT, constant steps … that way you have more control over your movements and you won't get so tired.

PRO-TIP Ignacio Mardones, Montaña Nuestra
"Even though Cerro Manquehue is very popular and you can climb/go down in half a day, the reality is … it's still a mountain! Therefore, things like getting lost or injured are natural, real risks and you have to be prepared for those cases.
Santiago's mountains have a similar vegetation and wildlife. They are mainly sclerophile forests, which means they always stay green, managing to preserve moisture and resist long, hot, dry summers. There are litre, maiten, and quillay trees, cactus, and, my favorite the chagual, which looks like a plant straight out of the dinosaur age.
Indigenous people believed that the chagual was the "god of thunder" reincarnated in plant form, sent to protect the mountain sides. Cool!

PRO-TIP Ignacio Mardones, Montaña Nuestra
Given the heavy foot traffic, complete with pets, music, and other ruckus, the majority of the animals have fled the mountain but, with a little bit of luck, you can see foxes, condors, and many different birds.
Who can go to Cerro Manquehue?
Anyone! Of course, within healthy physical standards. It's just as common to see families as it is people hiking for the first time, as it is athletes looking to train. If you're just beginning, I recommend doing Manquehuito first and then taking it from there.
Be considerate of other visitors! Maybe you have solid mountain experience, and, in that case, Cerro Manquehue is a great opportunity to show your leadership by helping others have a more enjoyable experience. Share your knowledge! Having positive shared experiences is key to creating a healthy mountain culture.

PRO-TIP Ignacio Mardones, Montaña Nuestra
How do you get to Cerro Manquehue?
In public transport, you take the metro to Escuela Militar, where there are collective/shared taxis that take you literally to the start of the trekking. Otherwise, you can go to the Lo Curro rundabout and there are taxis at the bus stop. You can take one up and then call for them to bring you down upon finishing. Their number is +56 22 242 7755.
If you go in car or in taxi from Escuela Militar, go to the Santa Maria Avenue until the Lo Curro roundabout. Here you take the Gran Vía exit and head up Vía Roja.
Purpose-driven people who feel compelled to make life meaningful for yourself and others.
Outdoor-inspired people whose best self comes alive when experiencing beautiful places and pushing your limits in the open air.
https://www.youtube.com/watch?v=o5VBxBoZRa4
FIND YOUR NORTH
EMBRACE YOUR NORTH
LIVE YOUR NORTH