For those living in Santiago, Cerro El Plomo is often the first high altitude mountain. If it is your first time climbing Cerro El Plomo, here's a step by step of what you can expect! It has an elevation of 5424 meters (17,800 feet) and is typically climbed in 3 days, if you are already acclimated.
The big day arrived. My first time climbing Cerro El Plomo was here. When I first started getting into mountain climbing (the trekking kind), I heard about Cerro El Plomo. It was one of 'the big ones' that lots of people talked about. A couple of mountains in, I began to recognize it up in the mountain range without people pointing it out to me, immediately spotting the "turtle" shape people referred to and its gigantic glaciers.
A couple more mountains and I decided I wanted to climb it… by the end of the year. The mountain thing was really going well for me, I was going out every weekend, and I was loving it. On top of my daily bike-riding and frequent gym-going, I was in good condition and so I kept pushing myself for increasingly difficult climbs.
The 13th and 14th of December I headed out to Cerro Leonera, the 16,000ft sister that sits to the left of Cerro el Plomo. Nobody protects Leonera from the wind, so she's known for her intense gusts that have knocked more than a few trekkers off their feet. It was bitter cold and, although I was fine except for my hands, I realized that to move up the mountain scale I would need to invest in some more technical clothing.
The week before heading out, I bought technical base layers for my feet, legs, and upper body.
Altitude: 5425 meters, 17800 feet
Elevation Gain: 2100 meters, 6900 feet
Distance: 35 km, 22 miles
Time: 3 days for beginners, if acclimated
Difficulty: Strenuous climb requiring good physical capability; technical knowledge important
Make sure you're ready physically, you're legs are gonna do some work!
Before your first time climbing Cerro El Plomo…
Acclimatization: When climbing Cerro El Plomo for the first time, first of all, you need to make sure you've been preparing adequately. A common training schedule is Cerro Pintor, Cerro Leonera (with camping) and then Cerro El Plomo in 3 days.
Equipment: You need to make sure you have the appropriate equipment. This is a very, very cold mountain!! Even in the middle of summer, you are almost guaranteed to have heavy winds and significantly -0C temperatures on your summit day. You need to cross a glacier at one point, and you really should have crampons and an ice axe because you don't know what state you'll find the snow in. And remember, if you have the equipment, you need to know how to use the equipment!!
Guide vs No Guide: Speaking of knowing how to use the equipment, you should not go directly from climbing Cerrro Manqueue or Cerro Pochoco to straight to Cerro El Plomo. The glacier crossing is very short, but, that doesn't mean things can't happen!! Whether you go with a guide or not, you need to have practiced auto–attention so you know what to do in the case of falls, how to use your crampons, how to walk on acarreos (highly sedimentary terrain), etc. If you don't go with a guide, you really should have someone who has climbed this mountain before. Safety is always first!!
Mules to Base Camp or No? You can hire mules to carry your heavy backpack to base camp, Federación. If you choose this option, you then need to choose if you want to mules round trip or if just on the way there.
Remember, Safety First!: Now that I've climbed this mountain multiple times, I have unfortunately seen a few rescue missions. I have also had to help people that were dangerously dehydrated and experiencing altitude problems, rendering them into an almost "drunk" state. Just because this mountain is easy accessed and not very technical, there are plenty of difficulties that cannot be undermined.
"Cerro El Plomo is sacred mountain (an "apu") and known as a guardian of the valley. While climbing this mountain, look out for the Incan ruins and reflect on the fact that you're hiking along the same path they hiked on over 500 years ago.

Chelsey Berg
My first time climbing Cerro El Plomo
Now that I've climbed this beautiful mountain many times and it's one of my go-to places for training and altitude acclimatizing when I stumbled upon this article that I wrote after my first time climbing Cerro El Plomo, I thought about deleting it. But then I thought, ah-ha! It can be a good resource and provide interesting perspective to someone climbing it for the first time!! So, here it goes:
Part 1: Valle Nevado to Federación Base Camp
We met up Friday morning, the day after Christmas, at 7am and divided into two cars and started the journey to the mountain. We began from Valle Nevado, one of the big ski centers about 2 hours outside Santiago. One person needs to register the climb with a staff person who sits in a booth at the farthest parking lot – stating name, how many people, who many days, what time you expect to return, etc.
During summer, and depending on terrain conditions, Valle Nevado allows 4×4 vehicles drive up to Tres Puntas, the highest point in their ski center. This knocks a few hours of trekking off the schedule and is highly appreciated. If you don't have a 4×4 or the terrain is in bad condition due to snow or mud and they don't let you continue, you will need to start walking from the parking lot.
The first part of the route to Federacion, the grassy part below is Piedra Numerada and towards the back is where you see the waterfalls.
We were able to continue to Tres Puntas, thankfully, and so the first day we hiked through the rolling valley that leads up to Federación. This is the Cerro El Plomo's base camp,  that sits at the feet of Leonera and El Plomo, right in the middle of both.
Even though the elevation climb from start to end is only a few thousand feet, it takes a while and is quite tiring thanks to so many ups and downs. I'd camped at Federacion a couple months prior, so I was familiar with the route and was able to fully appreciate the scenery. A special thing about walking into and through a valley is that you're always facing the end goal!! You always have Cerro El Plomo in plain view, building excitement for where we'd be climbing the next day.
Checkpoint: Piedra Numerada
The terrain at first is a nice and clear dirt path that weaves down into the valley. Then, it becomes a rocky basin in the valley itself. Heading down two big hills, we eventually arrived at Piedra Numerada, a common camp and rest spot due to it's large open space. This place is more common for camping during months when you can't start from Tres Puntas and need to begin walking from Valle Nevado itself. If you camp in Piedra Numerada, it would be much harder to climb Cerro El Plomo in 3 days.
From here, you continue on a rocky path and cross a river. While it isn't so steep, the constant climb got tiring with the weight of the backpack. Eventually we saw a couple of waterfalls in the distance on our right and a bigger one just below on our left. It felt like Federación had to be right around the corner. We were all starting to get a little tired.
Unfortunately, from here, there was quite a bit left. We crossed a really rocky part that wasn't very easy or comfortable for footing and slowed down my rhythm. Then, there was one big push-up before finally, finally arriving at base camp. Gosh I was so happy, I didn't think I could go on anymore.
Checkpoint: Base Camp Federación
It was incredible how many tents were at Federacion. It felt like a hotel! We were a group of 12, with 6 tents, so we chose our spot, set up, and then sat together to cook dinner and enjoy the views. It was very foggy but looked like it'd clear up just in time for our summit push the next day.
There is water available in a stream up on the left of camp, which was convenient, and we saw a beautiful sunset before going to bed.
Part 2: A Very Cold Summit Day
Saturday morning we woke up at 3:30, leaving camp at 4:30 in the morning. It was cold. Very cold. I was wearing all my layers, just my eyeballs showing and the headlight leading the way.
The climb from Federación to La Hoya / La Olla, another camp option was sure a wake up. Very steep and constant, a terrain of millions of rocks. This is an exhausting type of terrain when it has a steep incline because with every step, you slide down a little bit. In spanish, the word is acarreo.  The whole day, from Federación to the peak, proved to be this same type of terrain.
The route up from Agostini Shelter
While some other trekkers camped at La Hoya, we did not because sleeping at a lower altitude allows you to sleep better, which is very important for energy the next day. From Federación to the peak, the climb is 5000feet in just 2.1 miles. Yeah, do that math… imagine how steep that incline is!!!
Pretty much a leg killing angle the entire way. It took what I thought was steep to a whoooole new level.
We took a short 10 minute break a bit after La Hoya, finding a little divot to protect ourselves from the wind. This place sits in full view of the climb ahead and the gigantic Glacier Iver that we'd be crossing a couple of thousand feet more up. The sun was starting to rise and was lighting beautifully little specs of the mountain.
Spend some time enjoying La Olla on the way down, because on the way up, you pass it in the dark!
I took my gloves off to take a few pics and then quickly put them back on as my fingers began to throb in pain from the cold. From here we continued up to the little shelter, Refugio Agostini. It is a little wood shack with room for maybe 3 sleeping bags… but our group of 12 piled in to take a break from the wind and the cold. We ate a little bit and warmed up, it felt soooo good.
Checkpoint: Refugio Agostini
From here was a loooong acarreo, a straight up stint of that rocky terrain. It was exhausting and the wind was intense. We weren't expecting so much wind/cold that day. I was so glad to have bought my base layers. They were worth every penny. In one part, in order to avoid the slippery, small rock-filled path, we took a different one, heading up and climbing over large rock beds.
The route up from Agostini is very cold and exhausting.
However, after getting pretty far up, we had to head back down. It was too difficult and dangerous to continue crossing the way. We had to climb down a little rock wall, throwing our trekking poles to the bottom and literally climb a little section, which was kind of fun. Once back down… we had to head back up the other way. Ugh. We saw a group of people heading down; they didn't make the peak because they said the glacier crossing was too difficult. It was very hard ice.
Checkpoint: Pirque del Indio
Legs and arms tired, we arrived to a little place called Pirque del Indio. Here in 1954 a group of archeologists found a mummy of a young Incan boy who was thought to be sacrificed there. The first ascent of Cerro El Plomo was in 1898, but the Incans roamed the land for hundreds to thousands of years before. Waiting here for the rest of the group to catch up, we huddled into a little rock enclosure, looking straight forward at the glacier we'd have to cross.
Once past the glacier, it was about 700 feet and 1.5 hours to the peak. Again… that math… why does it take so long?
The combination of steepness, the lack of oxygen tiring you with every step, exhausted body. Of our group of 12, only 5 decided to continue the last little bit. Some were tired and some were too cold. Regardless, it's important to save energy for the way down and the mountain isn't going anywhere, so it's good to listen to your body.
Crossing the Iver Glacier
We put on our crampons, which are cleet like bottoms that attach to your boots. They have many metal points that stick into ice and help you gain a good footing grasp while you walk. I must admit, while the glacier part was quite small and flat, I was a bit scared. Falling meant a good couple thousand foot slide down the mountain. Many parts were pure ice, although they say that those are the safest parts.
I had practiced how to use the ice axe in the case of a fall, but still, I was on nerves. Someone had fallen earlier in the day but thankfully knew how to use the ice axe and stopped himself. Gulp.
Once across, we moved on to the last effort. It was a never ending zig zagging climb. To keep pushing myself when I wanted to quit I counted 50 steps and then gave myself a couple of second break. Step. By. Step. Every step a little bit closer. It took all my energy just to keep going. My mind was blank, all I wanted to do was arrive, but I never for a second doubted myself.
Then, all of a sudden, there it was. The top. I had arrived.
Just like on the top of Leonera, I almost wasn't ready, emotionally. I was flooded with the leftover energy that I had been reserving and using little by little. I was looking around, amazed by the sight in front of me, and a couple of streams of tears trickled down my cheeks.
It's always worth it, baby!
I was overwhelmed with life, with beauty, with love, with thankfullness, with gratefullness, with pride… with emotion. Honestly, I felt so blessed to be living this life that I am. To be on top of a stunning mountain in the middle of the Andes and to have so many friends and family supporting me in both of the continents that I call home.
I just wondered how I managed to lead this lucky, beautiful life. Arriving to the top of a mountain is this truly unique feeling of accomplishement and awe, a connectedness to oneself and anyone else around, and a oneness with this world. It's addicting and so powerful, and I always take a little time in silence to gather my thoughts and gratitude.
On the summit, we celebrated and hugged, ecstatic with joy. A group of 3 guys were also on the summit one was pointing out all the peaks surrounding us, telling us their names. It was fascinating. I wanted to climb them all!!
The way down was a blast. The benefit of the steep, heavily rocky terrain is the ability to dig your heels into the ground and basically controllably ski/slide down in big, swooping steps, causing little landslides of rocks to roll down with you. I was on cloud nine. Back at camp we celebrated, cooked, and chatted, going to sleep early after having used every ounce of our energy during the climb.
Part 3: Federación Base Camp – Successfully Back Home
While I was getting water from the glacier stream right before bed, an older man came up to me, maybe in his late 60s/early 70s. He was an experienced mountain man, working as a guide his whole life, having taken people up this very mountain now 38 times. Geeeez, what an idol!!
He introduced himself and asked my name and how I was feeling, I told him I couldn't be better! He said that he saw me up in the mountain and was impressed by my strength and pace, and he said that I had a lot of potential in the mountain. Woo hooo, I was floored, what an honor to be told something like that! I felt like he was my Uncle Pete talking to me, the same kind of mountain man but of the Rockies out in Cali instead of the Andes. We chatted a bit and I went to bed so happy my heart could have exploded.
Base Camp sits right under the mountain, this is about an hour before arriving, passing the waterfalls.
Sunday we woke up, had breakfast and mosied on back. It was a beautiful sunny day and I didn't have a care in the world. I was simply breathing, observing, and appreciating the world around me. I wanted to take in the details of the rock edges, the rolling hills, the cloud formations in the deep blue sky, the sun on my back, and the flowers in the grass in Piedra Numerada.
There was a little crater filled with ice cold water and we took off our shoes and sunk in our feet… it sent shivers up my body but felt great on my tired feet. The distance from Piedra Numerada back to the car had felt so short on the way down, but now, on the way back, it was eternal. I guess that would be because on the way in, it's downhill, and on the way out, it's uphill, plus you've already got tired legs!
Back in the car on the way home, Santiago was scorching almost 90 degrees, so we decided to stop for ice cold tap beers and pizza to celebrate the great accomplishment of our group. For all of us, it was our first time climbing Cerro El Plomo, our first time dabbling with a real higher altitude mountain, and we were very excited and proud. I can't wait to keep climbing more mountains!!
Free Tool: Give Notice Before An Outdoor Activity
Before going to the mountain, or doing any outdoor activity, it is important to give notice. This ensures that you can effectively and efficiently be found in case of an accident or emergency.
This tool lays out what critical information needs to be included and has a PDF you can easily fill out and send to your emergency contacts.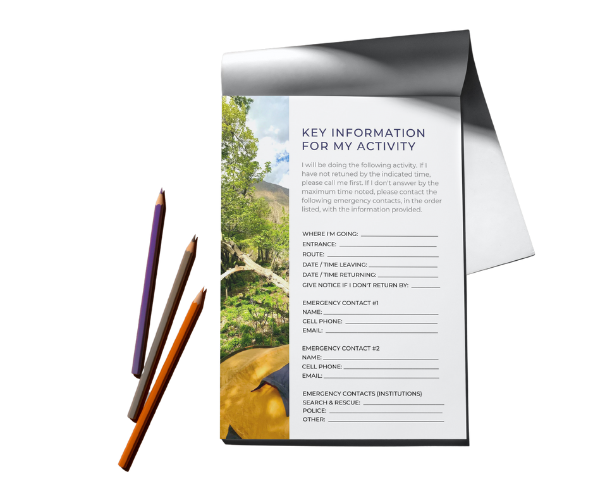 How do you get to Cerro El Plomo?
In your own vehicle: Head out of Santiago on Avenida Las Condes and continue straight, following the signs that direct you towards Farellones and the ski centers. Once you enter into the area, you have around 30 kilometers and 40 curves around the mountain!! Nausea is very real, so I don't suggest reading if you're in the passenger seat! During the summer, beware of cyclists!! Bikers often use these mountain curves for training during the summer, spring, and autumn.
Once you arrive to Farellones, you continue past the La Parva and El Colorado Ski Resorts until you get to the last one, Valle Nevado. Again, if you're lucky, you can continue up to Tres Puntas in your 4×4 vehicle. I recommend calling beforehand and getting an idea of the conditions and if they are letting people up. At least then you'll know what you're getting into and can better plan your ascent.
If you go after June and throughout the winter, you are obligated to have chains for the tires. The police offers will not let you pass without them! During winter months, there is also public transport that takes you to the ski resorts.
When can you climb Cerro El Plomo?
If it's your first time climbing Cerro El Plomo, I would say December – March provides the best conditions. Experienced climbers can extend that window a bit. While it's possible for very experienced climbers to do a winter summit, that needs to be with randomness and prepared for temperatures of -40C and extremely high winds.
Purpose-driven people who feel compelled to make life meaningful for yourself and others.
Outdoor-inspired people whose best self comes alive when experiencing beautiful places and pushing your limits in the open air.
https://www.youtube.com/watch?v=o5VBxBoZRa4
FIND YOUR NORTH
EMBRACE YOUR NORTH
LIVE YOUR NORTH