There is a lot to take into consideration when climbing Aconcagua! How much does it cost to climb Aconcagua? It depends.
Are you going with a guide? Will you use mules to base camp (Plaza de Mulas)? What about porters between high camps? Meal services? Or, are you climbing without a guide and without any services, all by yo' strong self?!
Climbing Mount Aconcagua – mountain climbing
Aconcagua is the tallest mountain the world outside of Asia / the Himalayas – It is all about mountain climbing. It is the highest mountain in South America and all of the Western Hemisphere. It is also one of the 7 Summits, a circuit that consists of the tallest mountains on each continent.
That said, Mount Aconcagua gets significant traffic – about 3000 people a year attempt the summit with a 30-35% success rate. That's a pretty low number considering the fact that Aconcagua is a non-technical climb. What happens is that too many people under-estimate the mountain and try to tackle the summit before they have the experience to do so.
"A ton of research was done before climbing Aconcagua …. and it was a little stressful and I ended up choosing to climb Aconcagua with mules to base camp, but without porters, meal services or guides.

I summitted, my partner did not, and I learned a lot first hand about the benefits of the other services. So, to help you make a successful summit, here's the low down.

Chelsey Berg
Let's evaluate your options for climbing Aconcagua.
Option 1: Mountain climbing Climbing Aconcagua with a guide
Well, mountain climbing Aconcagua with a guide is your safest bet, obviously. While non-technical, it has multiple factors that can turn your expedition around – altitude, extreme climatic conditions, extreme cold, and, not to be undersestimated, muscle fatigue. It's quite normal to have sunny blue skies one minue, and then half an hour later have 20% visibility with white out wind/snow. The distances between high camps are short, but on your 7th, 8th, 9th day in the mountain, carrying 20+kgs / 45+lbs up inclines and through snow, your body gets tired.
Local guides know the route, literally, like the back of their hand. They know where the fresh water is, where the best points to rest are, for how long to rest in each spot, when you need to push through the tiredness, and they know how to interpret the volatile and dynamic Aconcacua better than anyone else.
Before heading to Aconcagua, my partner and I met with our friend and local guide Luciano Badino (who we met on Ojos del Salado) who has 30+ successful summits and a lifetime on Aconcagua. He literally took out a pen and drew us a map of the summit day – outlining the entire route to show where was hard, where to rest, which route to take, with time check points, and many other invaluable tips that impacted our trip and made my summit possible.
The need to shout…
I also need to shout out to Jaime Xavier who I met on the mountain, another local guide with 20+ Aconcagua summits, who very generously allowed me to tag along with him when my partner could not continue after Nido de Condores (camp 2).
Guides make sure all the logistics are in place so you just have to climb… so you don't spend your energy worrying about the summit when in reality, you missed a detail in the beginning that results in you not even getting past Base Camp. Your Acongagua summit is significantly more possible with a guide.
If you need a guide recommendation for mountain climbing Aconcagua, click here to fill out the form. I will send you the contactinformation of couple of my most trusted guides.
GET MOUNTAIN GUIDE RECOMMENDATIONS
Send me a message and let me know what country you want to climb mountains in. I'll send you contact information of certified guides I trust.
Option 2: Using Mules to Plaza de Mulas, Base Camp
This was how I climbed and I highly recommend this option, if you aren't going with a full guide service. For starters, using mules allows you the "with assistance" permit price – click here for updated permit pricing.
Mules cost around $250/$300USD for Penitentes – Base Camp each way (ie: $500/$600USD total). There is no discount for round trip. One mule carries 60kgs / 132lbs.
For my partner and I, one mule was perfect. We sent the mule directly to Base Camp Plaza de Mulas, and then carried about 20kgs / 45lbs on our own backs to Confluencia, the first camp spot. Luciano, who I mention above, gave us the fantastic tip to ask if we could buy a few kilos extra on a mule when we headed from Confluencia – Base Camp.
Choosing that way, we wouldn't have to do the 20km / 15mile trek with such heavy backpacks. It worked out perfect and we sent 10kgs / 22lbs on a mule from Confluencia to Base Camp. This cost us $5USD / kilo and we walked 5kgs lighter. Perfect!!
The route to base camp is very long and, really, I wouldn't want to do it without mules. 
Another critical factor is that using mules also links you with a company, ie: INKA (the biggest agency), Fernando Grajales (a very good medium size agency), etc. Once you give them your gear in Penitentes, they arrange a transfer for you to the entrance of the Park, Horcones.
Also, when you're linked with a company, in Base Camp you can:
use their porta pottys (don't underestimate this luxury!)
ask them for water (you don't have meltable snow in BC!!),
warm up or relax in their larger "social area" tents
give them your garbage so you don't have to carry it to high camps
have their friendly faces to check weather updates, ask questions, bounce ideas, chat and, not to be undervalued, someone who at the very least, has their eye on you!! A little peace of mind in whatever tight circumstance.
Option 3: Having porters carry your equipment between high camps
Porters are the very strong guys and gals who are working in Aconcagua nd help climbers who don't want to carry their bags. They are highly acclimatized and used to the route, so they basically run up and down the mountain, transporting people's gear between high camps. The porters are like machines!! They open freshly snowed routes and, even so, make record time between camps.
Portering equipment between high camps helps a ton with the weight and acclimatization. At this point, we chose to porter our own equipment, but you can also pay someone to do it for you.
With the porter service, they carry up to 20kgs / 45lbs from one high camp to the next and also set up your tent. That way, you walk with less weight and you arrive with your tent all ready and waiting, so you can slide in, replenish calories, and rest.
You can contract this service before hand or on the spot with one of the main agencies (ie: if you did mules with Grajales, they also can offer the porter service) or with the porter association that has a tent in Base Camp. Prices vary but an average is $150USD to Camp 1 Canada, $200 to Camp 2 Nido de Condores and $250 to Camp 3 Colera. When would we climbing the Aconcagua finally?
You could also choose, for example, to porter unnecccesary gear directly to Nido or Colera and then independently carry the rest with you from Base Camp. When there's a big snow one day and you don't want to open route with so much weight, you could just pay a porter from Camp 2 to Camp 3, for example.
Option 4: Opting for meal services in Base Camp and High Camps
In the end, it's all about weight. The less weight the better. And food weighs a lot. When we were loading our mules, I couldn't believe how much weight, and volume, that our food was taking up. If you're interested in meal options, if you have mule service with Grajales. You could also reserve some / all meals with them beforehand. Maybe on the spot when you're at camp, with any of the other providers depending on availability. Don't forget you came for climbing the  Aconcagua!!.
A full meal service (which is breakfast, lunch, dinner and a snack for en-route) is called a "pensión completa". However, if you just want a meal here and a meal there, you can do that too!! Another idea is to bring all your breakfasts and lunches and just buy dinner, whatever works for you!! Important weight  can saved, because in addition to the food, is the gas, the cooking pots, the water, etc.
An idea for a meal costs:
Full meal plan in Base Camp Plaza de Mulas $150USD ($100USD in Confluencia)
Breakfast $50USD
Lunch $30USD
Dinner $50USD
Snack / En Route Food  $20USD
Would you like to use a guide or mule service?  you can use your agency's tents for warmth and comfort in Base Camp.
Would you like to know how long does it take to climb the Aconcagua ? Find out here.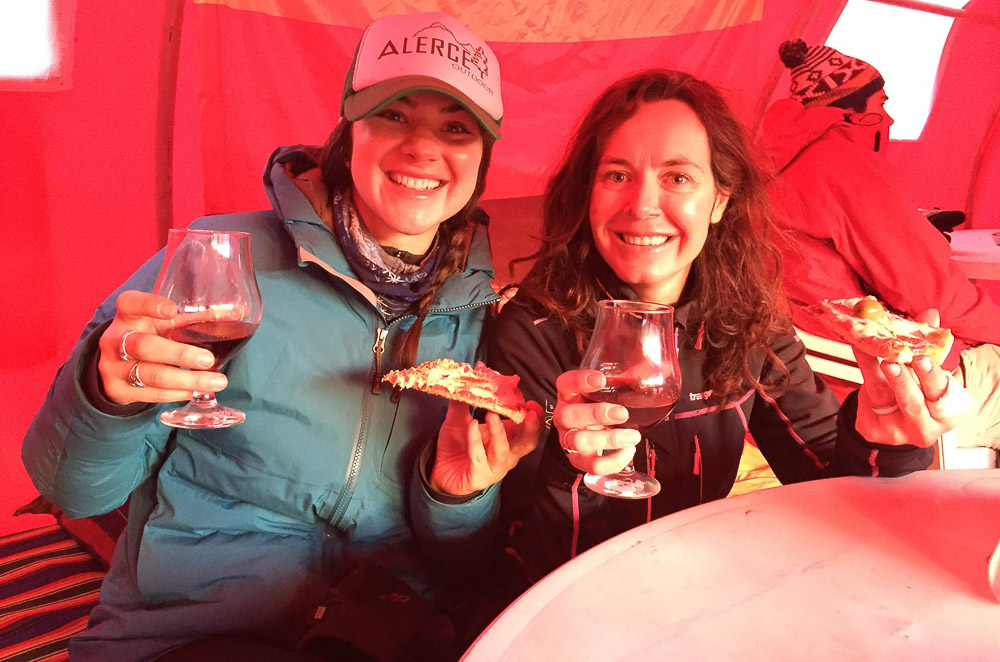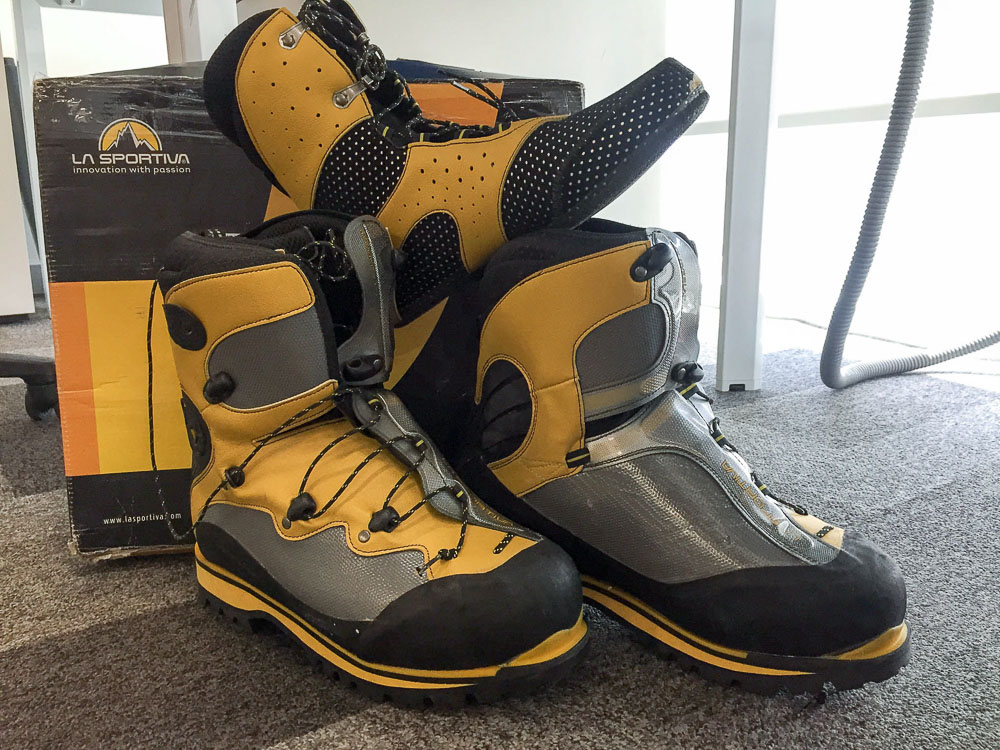 Option 5: Climbing Aconcagua without a guide, solo
In case you're a total machine, you've got a lot of mountain experience on your back and in your legs. You know how to pack not an ounce more than you need… go for it!! Hats off to you 🙂 At the same time, there is so much diversity and so many ways to mix and match services. There's a solution for every budget. There's nothing wrong with splurging for mules or a meal here. Or there if it gives your mind or body. The break that it needs to keep going and reach that summit!
Here's a recap of my journey on Aconcagua. Climbing Aconcagua, we used just the mule service. but… then very hungrily and happily splurged on a pizza and wine. That's what we did on our last night as a summit reward!! Best pizza of my liiiife!!
NOTE: In all transparency, and to help everyone achieve their summits, my partner who didn't summit says that when he tries again, he says he will use mules + porters, as body fatigue was an issue, combined with cold / climatic elements. It's important to know yourself and how your body has reacted in similiar situations to choose your best climbing strategy.
With this, I hope you can choose your route to climbing Aconcagua, the Roof of the Americas!! Best of luck and let me know in the comments if you have any questions!!
Purpose-driven people who feel compelled to make life meaningful for yourself and others.
Outdoor-inspired people whose best self comes alive when experiencing beautiful places and pushing your limits in the open air.
https://www.youtube.com/watch?v=o5VBxBoZRa4
FIND YOUR NORTH
EMBRACE YOUR NORTH
LIVE YOUR NORTH