Las Siete Tazas in Chile is a magnificent long weekend getaway just a couple of hours south of Santiago. It's a bit off the radar if you aren't from Chile or talking to a local, but highly worth the trip. Camping, hiking, turquoise rivers, crystal clear, and pristine waters, it's got all the good outdoor stuff.
My best friend from Wisconsin had recently landed in Chile to visit me and this was a perfect place to take her, a magnificent showing of the beauty Chile has to offer. It was fun to go just the two of us and relax for 4 days, but it's also an ideal place to get a group of friends together for a relaxing, but active long weekend escape from the city.
The Siete Tazas themselves are seven little teacup pools the flow down into each other from a cascade above. This is the main attraction, but there are many waterfalls, caves, canyons, and rivers ready for your exploration.
No matter where you go, the water ranges from turquoise to tropical green, to crystal clear. It's the kind of water that, no matter how cold it is (and, it's cold!!), you simply can't jump in. It's just way too tempting.
My "Word Cairns" newsletter sends inspiration, tips, stories, and photos from wild corners of this world. Plus, you'll be the first to know about new expeditions, activities, and special offers.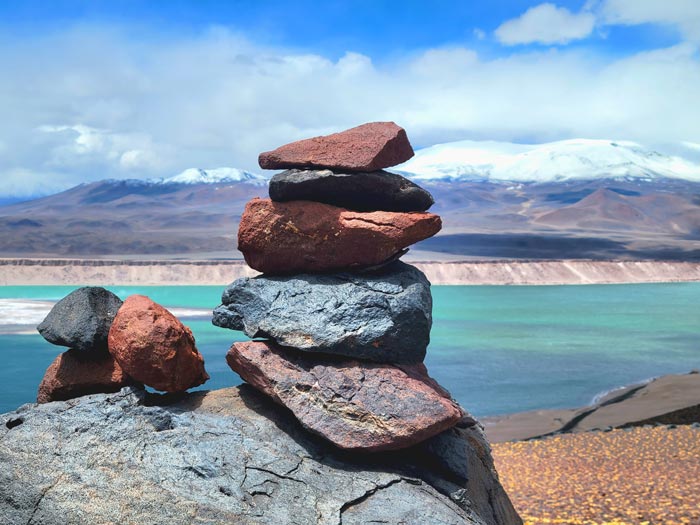 For starters, what are Chile's Siete Tazas?
We camped in Parque Ingles (see below), very happy with the river at our side but curious about the hype of the Siete Tazas. So we hopped on the bus early in the morning to explore the seven little teacup pools. The entrance fee into the park is 2000CLP / 3USD and there is a short trail to arrive once you get off the bus.
They are little swirls of deep turquoise blue, filled by the one above and filling the one below.
While Teresa and I considered them crystal clear and darn stunning, everyone says that they are "nothing" in comparison to what they were before the 2010 earthquake. During the powerful 8.8-er that shook Chile to the core, plates moved in a way that emptied out a lot of rivers and lakes, including the Siete Tazas and Salta de la Leona. Regardless, they have recovered enough water to 150% be worth seeing.
More than just the Siete Tazas
The Rio Claro – a river that you'll never want to leave
Honestly, you could spend your entire time walking from one part of the river to the next, climbing down the rocks from one little private paradise to another, and sunbathing over the rocks and gravel that lay on the ground.
This is exactly what we did the whole first afternoon and the next day and it was one of the most relaxing experiences imaginable.
However, as I said, WARNING, as beautiful as the water is… it is downright FREEZING. But, again, it was too appealing not to get in. So we sat in the sun, chatted, read, and napped until we had soaked up enough heat to handle a quick dip in the icy river. Story, repeat, over, and over, and over again.
The Salta de la Leona Waterfall
We took a hike from the Siete Tazas and eventually made our way to Salta de la Leona. We were greeted by a big araña pollito, quite the experience for Teresa who hadn't seen a spider of that size!! I assured her they are safe and harmless, but that didn't exactly quelch her fear that it'd pounce as she tried to pass.
Araña pollitos are very common in this area and you'll see them all over the campground. They are big, tarantula-looking spiders that look quite threatening but won't hurt you. However, they can jump!! Many people pick them up, but I highly suggest otherwise. Our skins have oils that really aren't meant to be on these animals, who are innocently just trying to roam free and live their lives.
Back to Salta de la Leona. The size of the waterfall and the pool underneath fluctuates depending on the summer and its dryness. But no matter what, it's beautiful. We spent a couple of hours here, laying in the sand, having lunch, chatting, and just exploring the area.
Where to camp at Siete Tazas in Chile? And, what if you don't want to camp?
Don't worry, you've got options!! I love camping, so that's always my go to suggestion, but I know it isn't for everyone. In the parks, there are various cabin options as well, but I would suggest booking beforehand especially during busy summer months of January – March.
While the days are hot in summer, by the end of March, the nights come quicker and drop in temperatures. Good sleeping bags and headlamps are a must, especially considering the araña pollito that crawls around!
Parque Ingles – right alongside the Rio Claro
My favorite place is Parque Ingles, the last stop on the bus that you take in Molina. This park belongs to CONAF, Chile's public park system, and is just a few kilometers past the actual Siete Tazas. It costs about 4000CLP / 6USD per person per night. Here, they've got a good variety of clean, nicely spaced out camping spots with good facilities like showers, hot water, and even water. If camping isn't your thing, you can rent a cabin (cabaña).
I say this place is my go-to spot because this tree-filled campground sits along Rio Claro, the most gorgeous river I have ever seen. It has many camp spots that overlook the river, and the abundance of trees means there are many places to catch some shade.
It's the perfect place to round up some friends, pack some cards and outdoor games, fire up the grill and just kick back while enjoying the tranquility. Many of the camp areas already have grills you can use, so just but some charcoal and foods while you're in Molina.
Valle de las Catas – right alongside las Siete Tazas
Another options is Valle de las Catas, inside the Siete Tazas park. It has a similar price point and similar amenities to Parque Ingles, such as running water, showers, nice campsites, grills, etc. If you choose this, then you'll just need to hop on the bus and head down a few more stops when you want to explore the Rio Claro.
The busses between parks leave early in the morning and various times throughout the day. This means that moving between sections is easy, cheap, and you can take advantage of seeing as much as possible.
Bonus no matter where you stay: the stars!!! There are so so so many stars! When my best friend and I went, we sat out for quite some time, gazing up at what was the biggest, most dense cluster of stars either of us has ever seen. It was absolutely breathtaking!! It was a stark reminder that I needed to buy a camera that can capture those kind of shots.
The park is in the Maule region of Chile and the mountain range here offers dense, lush forests in lower altitudes, and rocky, jagged, sometimes snow capped peaks up above. There are day hikes as well as multiple day treks, depending on your time and physical capabilities.
Sendero los Cipreses: This is a short hike through the forest, winding along the river so you can take pit stops of swims and rests as you wish.
Salto de la Leona: This is a short hike from the Siete Tazas and takes about an hour. There's quite a few viewpoints on this trail.
El Coigue: a short hike to a huge Coigue tree, native to this area in Chile.
El Bolson: the trek to El Bolson starts from Parque Ingles and takes about 4-4.5 hours, as it is just over 11 kilometers and climbs a vertical distance of 700 meters. It's not a hard hike besides the distance, and meanders through the forest before arriving at a little shelter with a stunning mountain backdrop. Note, the route isn't always well marked, but if you stay on the main path, not veering off the smaller CONAF ones, you should be good. From here, you can climb the Colmillo del Diablo mountain, but that's for another post and another weekend!
Ruta Chiquillanes: this circular trek starts and ends in Parque Ingles, and takes around  3.5-5 hours, as it is around 8 kilometers and with less elevation climb. The path isn't always so so well marked, and the first part is the steepest and hardest, but gets easier after that.  It gives you spectacular views of the park, of the valley (Valle del Indio) and of a nearby volcano, Descabezado Grande (aka: Big Headless Volcano, due to it's flat top).
Now, go! How do you get to Siete Tazas in Chile?
Getting to Siete Tazas is actually quite easy! From Santiago, you rent a car or take a bus to Curico, which is about 3 hours south. Once you get to Curico, from the terminal you take another bus to Molina, which is about 30 more minutes. These busses are quite affordable and abundant. From Santiago, Turbus and Pullman have ones that leave a couple of times a day for about  4000CLP/ 7USD. The bus from Curico to Molina costs around 1000CLP / 2USD and leaves every couple of hours.
TIP: Once you are in Molina, I highly recommend going to the local Unimarc grocery store and buying all the food you need for your camping trip at Siete Tazas. Food in the park is expensive and not in large variety. After you've got your groceries and are ready to make the final stretch to the park itself… go to the bathroom!!
The bus from Molina to Radal Siete Tazas National Park is around 2 hours and is a BUMPY and dusty ride. From experience, I can tell you it is pure torture having to pee while you're on that bus. The bus leaves from downtown Molina on a frequent basis and costs around 2500CLP / 5USD. Near the bus stop area, you'll probably enjoy the smells of people grilling shish kebab (anticuchos) and selling empanadas. Yum.
As you're getting into the park, the bus stops at Velo de la Novia so you can take some pictures of your first waterfall of the trip, that drops over 50 meters from deep forest into a bright blue pool. It's a glimpse from afar of the beauty the park beholds, with insanely celeste water and lush vegetation.
Bus and hitch-hike conversations
Always an added bonus
Because I somehow always meet interesting people or have random bus/travel time conversations, this trip to Siete Tazas was no different. Here's the story of this time.
On the way from Salta de la Leona, we met two comical ladies that were walking the trail. One was obviously Chilean and the other was obviously a foreigner. We were at a little lookout and the Chilean woman started talking to me about how small the Siete Tazas were in comparison to the last time she'd come 20 years prior. While we were talking I noticed the other lady was taking pictures of us. I was a bit surprised but could tell she was simply enthusiastic about her experience in Chile, haha.
Anyways, I found out they were the mothers of a Chilean guy and Czech girl who had gotten married. Although they spoke different languages, the Chilean mother was taking the Czech mother to see the sights around her hometown. They enjoyed each other's company and got their points across through highly exaggerated sounds, gestures, and motions. It was quite the enjoyable, and funny, sight. They offered us a ride to Curico, which was right along our route back to Santiago, and we graciously accepted.
They took us back to Parque Ingles to pack up our tent and then we all shared coffee before jumping in and beginning the hilarious trip back to Curico. The Chilean mother swerved the windy, dusty roads like a pro as the Czech mother screamed "whoa, whoa", while doing her best to pronounce "lento, lento (slow, slow)" in Spanish. Then, they'd look at each other and laugh.
When passing pretty scenery the Chilean mother would stop, make a camera motion with her hands and the "click" sound with her mouth, and the Czech mother would excitedly jump out of the car and snap a bunch of photos with her phone. The two ladies were simply lovely and it was endearing to see the bonds, and experiences, that can be shared without words.
So that's it!! Central Chile has many sights to offer, and the Siete Tazas National Park is definitely one of them. Tap into your adventurous side, pack your bags, and get ready for the most relaxing outdoor adventure you've had in a long time!
Purpose-driven people who feel compelled to make life meaningful for yourself and others.
Outdoor-inspired people whose best self comes alive when experiencing beautiful places and pushing your limits in the open air.
https://www.youtube.com/watch?v=o5VBxBoZRa4
FIND YOUR NORTH
EMBRACE YOUR NORTH
LIVE YOUR NORTH