Patagonia hiking is some of the best in this entire world. It feels near impossible to put into words, or even pictures, the feelings, experiences, and views that you experience during the Torres del Paine W Trek or the longer O Trek or even longer Q trek. Torres del Paine is truly a seemingly untouched piece of mother nature with a "pinch and wake me up" feel.
Every day, multiple times, I found myself in pure awe of what was in front of me, grateful for being able to witness it, for our beautiful weather, and for the opportunities in life that had led me to get to a place like this.
Carl, my rad, always-down-for-an-adventure friend from MKE, joined and we proved to be a great pair. We trekked through ferocious wind, freezing rain, and scorching heat. We trekked over glaciers, mountains, prairies, rivers, forests, daisy fields, and swampland.
The Torres del Paine trek, and Patagonia hiking in general, is difficult, stunning, and inspiring… and something we will surely never forget. Because I really would love for you to have that same experience, I'm gonna break it all down for you right here.
Patagonia Hiking Magic
Know what you're getting into
Step one – Which Torres del Paine trek will you do?
The W Trek? The O Trek? The Q Trek?
Did you know there were so many?! It's important you understand your options! There is the Torres del Paine W Trek, which is 4-5 days; the O Trek, which is 8-9 days; and the Q Trek, which is 10-11 days. What's the difference?
The Torres del Paine W Trek is the base of all the treks. It's in the shape of a W, surprise surprise. You climb up into 2 valleys, which are the points of the W.
The Torres del Paine O Trek is basically the connection of the two tips of the W. Instead of ferrying into the Paine Grande camp and then getting leaving in a car once you get to the other end, the base of the Towers, you do the back end of the trek and end right where you started.
The Torres del Paine Q Trek is the ultimate trek. No transport included. Those legs are your fuel!! You skip the ferry that takes you to the Paine Grande camp and instead walk yourself through tall prarie grass and vast mountainous landscapes until you arrive.
Because I'm one of those "all in" types, we chose to do the full Torres del Paine Q Trek. I get a case of FOMO-MN. Fear of Missing Out on Mother Nature. hahaha. And in 10 days, our eyes saw pretty much every kind of landscape under every type of weather imaginable.
Step Two– How and where will you sleep?
Camping? Hotel? Refuge? Mixed?
If you will do the Torres del Paine W Trek, you have the option to sleep outside in tents or inside in shelters.
If you sleep outside in tents, you have the option of renting tents that are already up and waiting for you, or of course, carrying your own and just paying for the space. If you choose to stay in shelters, you have the option of renting just the bed, and you sleep in the sleeping bag that you carry with you, or you can rent a bed with sheets, blankets, and the whole shebang.
If you choose to pay for a guide service, that is additional and they will be able to help you with accommodation reservations, food, etc. It's not so necessary since Torres del Paine is very well marked, but this depends on your own personal comfort. My friend Raphael from Journey Wonders used ChileTour Patagonia and in that link, you can read his positive experience.
I highly recommend camping, there's something so special about being that close to this kind of nature.
Obviously, it's not rocket science to say you get what you pay for. The cheapest is carrying everything with you and just renting your tent space. The most expensive is sleeping in a shelter with all the warm layers included. So, you choose, based on your budget, and your ability to walk hours and kilometers on end, with heavyweight on your back.
Important note: shelters are not an option once you leave the W Trek!! So, if you are doing the Torres del Paine O Trek or Q Trek, you need to carry your own sleeping back and tent. 
Step Three– How and where will you eat?
Carry it all? But there? Mixed?
Again, you can choose to pay for food or carry your own food. The difference is how much you want to pay and how much weight you want to carry. You need to know your physical capabilities and be very honest with yourself. You do not want to turn around, in the middle of one of the best Patagonia hiking experiences you can fathom, just because those legs of yours can't go on, because the weight on those shoulders is too much. Being real with yourself leads to success.
Okay, so, if you carry your own food, you need to plan for breakfast, route snacks, light lunch, and dinner. Also, don't forget, camping pots, eating and drinking dishes and utensils, gas, and a camp cooking stove. This is significant space and weight. On the positive side, if you stick it out, the backpack gets lighter each day!
If you buy meals, they have food available in the shelters. You can buy all hot and ready meals. After a long day, you'll be arriving to camp with your mouth watering, no doubt! It will be a small fortune to buy all your meals, but, there's also the 50/50 option! You could plan what meals you want to pay for, and then carry the rest! So, whatever works for you.
Important note: Since there are no shelters outside the W Trek, there is no food! So, if you do the Torres del Paine O Trek or Q Trek, you need to plan accordingly and carry your food and cooking equipment. 
My "Word Cairns" newsletter sends inspiration, tips, stories, and photos from wild corners of this world. Plus, you'll be the first to know about new expeditions, activities, and special offers.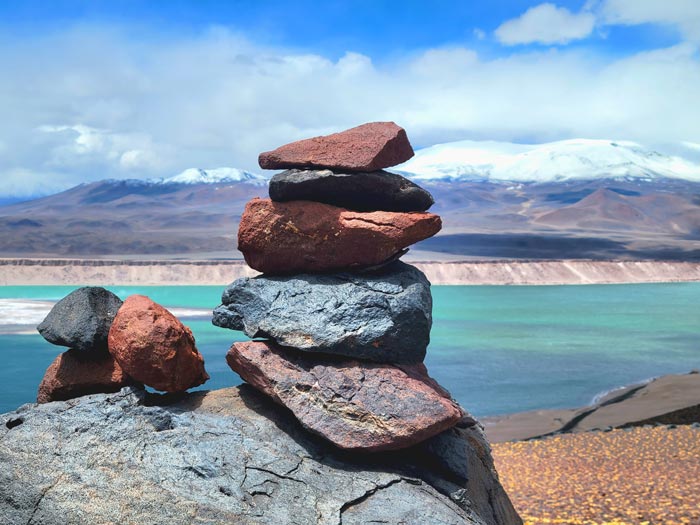 On to the good stuff… Patagonia hiking magic!
Okay, I lied. There's one more little logistics to be done. Where do you want to start? You need to decide at which end of the W you start at. Left to right or right to left?
Left to right, you start with a ferry ride to enter the park and then sleep at Paine Grande. This means your first big view will be the Glacier Grey and your last view will be the famous Towers, for which the park is named after. You will then be picked up and taken out of the park.
Right to left, you start by driving into the park and getting dropped off for your first camp spot in Las Torres. This means the next day you'll start your trek up to the mountains, then you'll do the trek, and you'll finish by ferrying out of the park after seeing Glacier Grey.
To make sure everything is clear since we did the Torres del Paine Q Trek, we went from left to right. We hiked into the park for 2 days and then connected with the Torres del Paine W Trek at Paine Grande / Glacier Grey. All good?
Torres del Paine W Trek Day 1

Campsite: Puerto Natales to Paine Grande 
The first day is your entrance into the park. From Puerto Natales, you need to arrange your transportation to and from the Torres del Paine National Park. Our awesome hostel, Erratic Rock, helped with that. Actually, they helped with everything.
They do a (free!) 3 o'clock talk daily to help make your Patagonia hiking the most pleasant possible. They give you all the info you need, answer questions, and also rent some equipment. They're awesome and the hostel has great hikers energy.
Erratic Rock is the best hostel in Puerto Natales! Don't miss their 3 o'clock talk!
And, super bonus, they give you a huuuuuge trekkers breakfast before leaving. It's probably one of the best breakfasts I've had in my life, with homemade breads and everything. Anyways, they helped us get transport for the 2 hours into the park itself.
We were dropped off to start our Torres del Paine Q Trek, but for purposes of this article and me only talking about the W Trek…. everyone doing the W Trek was dropped off to hop onto the ferry. The ferry takes the W Trek trekkers across the turquoise blue lake and to the Paine Grande campground. From here, you spend your first day walking up to Glacier Grey.
Torres del Paine W Trek Day 2 – 9 hours
Campsite: Paine Grande to Los Cuernos
We knew today was going to be a long, long day so we made our trusty oatmeal and started out early. Even though it was January, mid summer, the reality is that down in Patagonia, the weather is still intense. It was a cloudy day, drizzly and cold.
I put on extra layers but 15 minutes into the hike had to take them off. Even in the temperature, the steep, rocky paths do an excellent job of rising the internal temperature. The first hour is extremely inclined but then the next two were nice rolling curves.
The mountains somehow still looked stunning even though half covered by thick, grey, cotton-like clouds. There was a part with solid sunlight sneaking through, however, and those rays of light shown down and lit up that side of the mountain gorgeously. I remember thinking that if God would ever come to earth… it'd look something like that.
Just one mountain crest and a couple of miles away was a deep, mysterious valley in between two huge mountains – that was where we would soon spend the majority of our day. And beyond those looming dark valley clouds was the sharp, fascinating contrast of a perfectly blue sky… sooo radiant!
The 3-hour hike up into Valley Frances was incredible… and challenging. After getting through the treeline, the majority, probably 85%, was a steep incline up the mountainside rockbed. To top it off, the cold, cold rain got heavier, and colder, as we climbed. Complicated weather is very normal in Valle Frances / The French Valley.
However, the view was still gorgeous. Ahead and on our left were the unbelievably big mountains and a gigantic glacier spilling along its sides. Along our path up was a powerful waterfall just pouring tons of rain and glacial melt. When we got up to the top, we looked back at the tropical blue lake and skies we left behind, and then at all the grey and ice around us. It was almost inconceivable to know we walked and climbed the distance of two distinct climates.
Wearing our jackets, wind jackets, hats, mittens, and layered pants, the freezing hail-like rain was falling on our faces. Combined with our near frozen fingers, it was impossible to take a good picture. As "miserable" as this was, the beauty was undeniable.
When we returned to the bottom of the French Valley we still had another 3 hours to our campsite. We stopped to make hot soup for some much needed replenishment and warmth. After that and a couple pieces of our chocolate bar, we were all set to put the packs back on and mosey along.
This last stretch was hilly but manageable. Once getting out of the valley we found ourselves on an enticing, rocky beach under a big rainbow! The lake looked calm except, like on many of the lakes, in the distance we could see large gusts of wind throwing water from place to place. It was like dust/snow storms crossing over the lake.
The campsite this night looked West at the mountains from which we just emerged. Although we were 3 hours removed, our tent felt like we were still at their feet. To our welcome surprise, this camp also had a place to buy some re-fueling foods… including boxed wine for $10, woo hoo!
So, Carl and I treated ourselves to a box of vino tinto and "cheers-ed" to the view, our accomplishment thus far, and the excitement to come. It felt so good and we saved 1/2 the box so we could have a "glass" for the next two nights. In all reality, our drinking method was the same plastic bowls from which we at our oatmeal, soup, and noodles, haha.
Torres del Paine W Trek Day 3 – 7 hours
Campsite: Los Cuernos to Los Torres
The majority of this day, one of the physically hardest, was spent leaving one mountain valley behind and heading up into the next. In contrast to the cold, glacial, rocky French Valley of the day before, this day's was dry and hot. As we walked… and walked… and walked, it was hard to believe the change in landscape happening right before our eyes.
We crossed our first patch of grass and a beautiful deep blue lake that reminded me of northern Wisconsin. The sun was beating brutally and, unlike before where we crossed rivers every 1/2 hour to hour (from which we drank directly), now the water sources were few and far between.
It was about 5 1/2 hours of quad-killing incline and, without our ability to constantly fill up with ice cold stream water, it felt even hotter. Finally, in the usual fashion, we got to the top of the peak and saw a rejuvenating view – the entrance to the valley.
After a big push-up, the view always makes it worth it.
There were so many trees, the mountains were even taller than the last, tens of waterfalls were flowing from different tops of the mountain  (yay! water!!), and a big river was flowing strongly far at the bottom.
We had just about 45 more minutes, mainly uphill, before we could go down a bit to the area where we could cook. Using the stoves is only allowed in designated areas because, with the 60-100 mile an hour winds, it is far too big of a fire hazard outside the covered shantee areas.
We made rice for lunch and took a good hour to lay in the shade and relax. We were exhausted, from the heat and from the climb, and still had 1.5 hours up through the forest treeline to our campsite. Since we were already quite a ways up the mountainside, from here to the top it just got steeper and steeper.
Tired upon arrival, we made our noodles, had our "glass" of wine, and hit the sack. Our camp was still in the forest and therefore it was the first night we didn't have mountains as our outside-the-tent window view… but the break from the wind was a nice exchange.
"Don't stop with just Torres del Paine, Patagonia is filled with other adventures just waiting for you to hike them! Spend a few days in Punta Arenas, head over to Fitz Roy, hike El Chalten, go see the amazing Perito Moreno glacier… here I'm just starting the list of some of the top must-haves!

Chelsey Berg
Torres del Paine W Trek Day 4 
Campsite: Los Torres to Camp Serron (or, outta the Park!)
Doing the Torres del Paine W Trek from left to right, means that this day, you're on the east side of the park, almost to the top of the 2nd tallest mountain, and prime for a sunrise.
That said, sunrise here we come!! We got up at 3am in the freeeeeeezing cold, put on all our layers, and turned on our front headlights. Waking up was not easy… getting out of the sleeping bag was near impossible. It was just so damn cold each and every night/morning (even in mid summer!!).
Now, getting up before the sun made it even worse. But, motivation is a big driver and we didn't want to miss the sunrise. We weren't out in the middle of mother nature to sleep in and take it easy… we wanted to see all she had available to us.
So, by 3:30 we were out of the tent and trekking up. Within a half hour we were out of the forest and onto the steep rock. From rock to rock we climbed…. and finally got to the top. There they were, The Towers themselves, with a little laguna sitting peacefully in the glacial carved bowl beneath them.
There are three of them, and, yes, they are gorgeous. It was just starting to peak light so we scanned around for a large rock to sit on and watch the show.
We saw one and started climbing that way. It was more difficult up here because the rocks were of varying sizes. The large ones that held still, the medium sized ones that shouldn't be stepped on without testing, and the little ones that created mini avalanches if you stepped wrong.
It was a bit scary climbing over to our chosen seat but we got there, unrolled the sleeping bags we'd carried with us, crawled in, and waited for the show to begin. The sun started rising around 4:45 and from then on the mountains transformed before our eyes … it was magnificent!!
By 6:15 we were freezing and the sunrise was over. The mountain tops were lit up in all the sun's glory and we were so happy to have had a perfectly clear sky to witness the most beautiful beginning-of-a-day of my life.
We looked for the best way to crawl back and begin heading down the mountain. Then, in a cave not too far away, some people I had met earlier called my name. And, they wove a bar of chocolate in the air. Ah-a!
I found a path over to them… carefully from rock to rock I crawled to my delicious little treat. And, it was so worth it! Before heading down, Carl and I sat in the cave and chatted a bit, enjoying the little break from the cold air.
When we got back to the camp where we slept the night before, we made our oatmeal, and then, because we were doing the Torres del Paine O Trek, we trekked on. All the people doing the Torres del Paine W Trek headed out of the park, back to Puerto Natales, surely happy with their last day of an amazing, unforgettable trip.
Make sure to go to Isla Magdalena before or after Torres del Paine, to see the penguins (if they haven't migrated)!
Purpose-driven people who feel compelled to make life meaningful for yourself and others.
Outdoor-inspired people whose best self comes alive when experiencing beautiful places and pushing your limits in the open air.
https://www.youtube.com/watch?v=o5VBxBoZRa4
FIND YOUR NORTH
EMBRACE YOUR NORTH
LIVE YOUR NORTH