It was my birthday and I found myself in La Paz, Bolivia. Option one, beers and dinner. Option two, something thrilling. Like biking 40 miles down the world's most dangerous road. Death Road, originally built by prisoners in the 1930s, connects La Paz with the Bolivian jungle. Hand's down, it's one of the unmissable tours in Bolivia.
Obviously, biking Yungas Road (the formal name behind the world's most dangerous road) sounded like a much more Bolivian-style idea. I mean, c'mon, I'll go out for dinner and have birthday drinks for the rest of my life.
It was my birthday eve and we had been bumming in La Paz for a few days. We were really enjoying it's steep, windy, bustling streets, but hadn't yet begun any of our Bolivia tours.
Once I heard about Biking Death Road, I knew there was no better way to celebrate another loop around the sun!
We woke up early to enjoy my birthday breakfast at the cutest and most delicious cafe. We had fresh, crusty bread topped with homemade passion fruit jam, a cup of strawberries and bananas, fresh juice, and coca tea. Year 27 was startin out off with a bang!
The cafe was on a quaint a side street and busy cholas (native women) were hurriedly passing by, carrying their heavy sacks up the steep hill. While we were eating, the same old man passed by 8 times… constantly strapped with a large bundle on his back. I was so humbled and impressed by how hard they worked.
Satisfied and happy, we got picked up and started off on the first on the list of our Bolivia tours.
About Yungas Road
The worlds deadliest road – a Bolivia tour that can't be missed
It was about an hour drive to where we'd start our ride, and we got to see quite a few city neighborhoods along the way. Once out of La Paz, the weather was foggier than I've ever seen before. We were climbing up, up, and up into the mountains, up to an elevation of 4,650 meters!! I could hardly see anything! Bummer, because waterfalls and deep, luscious valleys were on both sides of us.
Death Road in Bolivia was originally built by prisoners in the 1930's. It connects Bolivia's capital, La Paz, with the jungle city of Coroico. Therefore, it was, and to an extent still is, a necessary travel route for locals.
The construction of the new Yungas Road took almost 20 years and re-routed the most dangerous section. Therefore, this part is now primarily used for one of the most famous of all Bolivia tours – giving brave tourists and backpackers like me the pride of saying they celebrated life by biking death road.
While the road is quite safe for bikes, it is absolutely mind-blowing to think some locals still need to make this terrifying trek in auto. Especially looking at that fog that was (sadly for us)  disrupting our view of the mountains and the road.
"Up until 2006, when the government decided to build a new Yungas Road, hundreds of lives were claimed each year by Death Road. At the rate of almost one vehicle falling off every other week, it earned it's name as the world's deadliest road.
Biking down Death Road
These stimulating 40 mi / 50 km make it one of the best Bolivia tours
As long as you're not pushing the limits by not using the breaks, shutting your eyes, or something crazy like that, taking one of the most thrilling Bolivia tours is actually a safe and breathtakingly beautiful experience.
At an elevation of 4650 meters / 15,500 feet, the air was hair-splittingly cold and the clouds were thick, white blankets. November to March is a foggy season, and we were there right at the hair end. We were bundled up in full helmets, knee/elbow pads, and warm pants/jackets.
When we finally got to the starting point of Death Road itself, I felt a combination of fear and wonderment. This was going to be an unforgettable birthday experience. Even though the grayness,  it was obvious this countryside was just drop dead gorgeous.
You pass by many waterfalls on your way down. Since Death Road connects La Paz with tropical villages, as you drop in elevation, it get's more tropical.
Tip: Go fast, but don't forget to enjoy the ride!
I started out on an adrenaline rush and was biking the windy road pretty fast, but always under control. But then, all of a sudden, something hit me. I didn't want to miss out on the view!
From then on, I chose to go fast enough to feel excited, but slow enough to look around while still keeping my eyes on the road. Throughout the whole ride, I'd estimate that we passed over 40 waterfalls. A couple times we even passed directly under them!
The constantly curved, skinny road unveiled precious scenery and we stopped frequently to take pictures. The lower we dropped in altitude, the warmer it got. Our ending point at 1100m / 3600 feet was 3650m / 12,000 ft below where we started. It was a green, tropical climate, totally different than the foggy, mountain jungle above.
For most of Death Road, it's a one way street with hardly any guard rails, despite it's over 600 m / 2000 ft dropoffs.
After a couple of hours we stripped the mountaineering jacket and pants. We'd passed the scariest parts of the road and only had run into a couple of cars.
When cars were coming in opposite directions, it got tricky. I sure couldn't imagine it back before the new road was built, when cars, trucks, and busses were constantly winding its dangerous cliffs.
We made it to the end of Death Road and could proudly say we survived one of the most exhilarating, nerve wringing Bolivia tours out there. We celebrated survival by cheersing beers and having lunch with our group. It felt nice to sit in the sun and just take in the day and the surroundings.
After biking Death Road, you stop for lunch, beers and rest before heading back to La Paz.
A secret for after biking Death Road
This little known tip will make this tour one of your favorites in Bolivia
When everyone else headed back to La Paz, Teresa and I decided to move on to Coroico… the colorful little jungle town at the other end of Death Road. I didn't know what to expect but felt ready to move on. I'm not a huge fan of city travel, and felt that we'd seen all there was to see in La Paz.
So, we rolled our dice and decided to see what this little town had to offer! We took a taxi, an old mini-van that made daily rounds between all the villages, for less than $1USD.
We hopped in, Teresa in the back and me in the middle. When the driver started going… Teresa and I soon looked at each other like, "oh, shit." Without talking, we were both thinking the same thing, "Man, I didn't die on Death Road… but, I might end up dying on Death Road!"
You see, we had to take the final stretch in order to get to Coroico. It wasn't that bad, similar to the thousands of other sharp cornered mountain roads I've traveled on. The difference was this guy was racing around each curve, skidding along the gravel paths and passing in places you definitely shouldn't be passing. I just shut my eyes and hoped to actually survive death road.
I definitely recommend not going back to La Paz after Death Road. Go to Coroico!
Thankfully we did, because Coroico was an unexpected jungle surprise.
My "Word Cairns" newsletter sends inspiration, tips, stories, and photos from wild corners of this world. Plus, you'll be the first to know about new expeditions, activities, and special offers.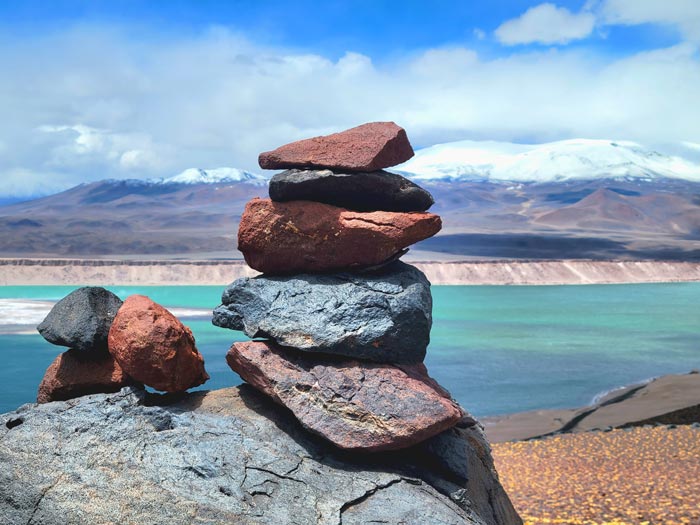 Tour Bolivia off the beaten path
Check out the rest of my articles on Bolivia
Bolivia is a geographically diverse country with so much to explore. Browse around, get adventerous, and set your "what not to miss in Bolivia" list!
Purpose-driven people who feel compelled to make life meaningful for yourself and others.
Outdoor-inspired people whose best self comes alive when experiencing beautiful places and pushing your limits in the open air.
https://www.youtube.com/watch?v=o5VBxBoZRa4
FIND YOUR NORTH
EMBRACE YOUR NORTH
LIVE YOUR NORTH