Cerro Provincia stands at 2.750 meters / 9022 feet and takes between 8-10 hours to climb. It's easily accessible from Santiago, via public or your own transportation. Here I'll share with you details about the route and the most important things to know before climbing.
Cerro Provincia is located at the beginning of the Andes mountain range, easily accessed from Santiago's "oriente" neighborhoods. It is part of the San Ramón range, which is known for it's tallest peak Cerro El Plomo. It's closeness to Santiago and the solid workout it requires helps give it the popularity as one of the most visited mountains by nature enthusiasts and athletes looking to workout a good sweat.
I think it's amazing that I can wake up early, leave the house around 7:00am, begin climbing around 8:00,  work up a sweat, put in a good workout, breath fresh air and be back home around 5:00pm (or earlier if you really put your foot to the pedal and speed up the mountain!).
That said, if you like trekking, hiking, you want to begin mountaineering, or you're just looking for a great way to start your day with some exercise in Mother Nature, Cerro Provincia is a perfect bet!!
Altitude: 2.750 meters / 9022 feet
Elevation Gain: 1.770 meters / 5800 feet
Distance: 18km / 11 miles
Time Needed: 8 – 10 hours
Difficulty: non tecnical but physically demanding; take into consideration the following:
Physical Requirements – with an important vertical elevation gain and horizontal distance covered, Cerro Provincia requires a solid physical condition, meaning someone who exercises regularly.
High Temperatures in Summer – the mountain has very little shade and in summer, when the sun is high, it is extremely hot. If climbing during these months, it's recommended to start early, around 6:30am, because the heat only starts to drop when you get near 2.200 meters / 7000ft, due to the wind that begins to blow. That said, sun protection is extremely necesary in all seasons.
Water  – Cerro Provincia is dry and does not have water in it's route. During high temperature winters, you'll have snow near the summit, while in more normal winters you'll have snow starting almost immediately. That said, it is very important to carry as much water as you'll need for the route. Minimun 3 liters, plus more during summer.
Cerro Provincia: The Route
In general, the route is well marked and even has various totem poles indicating your altitude; so just keep in mind that as long as you're heading upwards and you're seeing the poles every once in a while, you're good.
In the first part, you have a wide path with various lookouts of Santiago. Within the hour, you'll come up to the first marked sign indicating distance and approximate times. Here you'll head to the left towards Alto del Naranjo.
As you continue on, you'll get to Alto del Naranjo, at 1.840 meters / 6000ft, which marks the halfway point (in distance, not time). This is a perfect place for your first rest, not only because it offers an amazing view and is utterly relaxing, but also because there is a huge and amazing Quillay tree that offers some much needed shade during the summer season. If it's not too hot, there are also some large rocks to lean against and just take in the sounds of silence 🙂 If you're lucky, you'll see one of the foxes that are known to run around Cerro Provincia. Enjoy the gift from nature from afar but don't worry, they're going to be more scared of you than you are of them!
Continuing along with the path's ups and downs, soon you'll arrive at Valle Suizo, which has a great view of Santiago. It's a large, flat area which is also ideal for camping if you're interested in doing the route in two days, or even just looking for a weekend camping outside of the noise and business of the city. Since there's no water on the route, you'll need to remember to carry double the water, for 2 days.
Valle Suizo camp / plateau on

Cerro Provincia
Passing this area, the route takes a turn and you start to climb with more elevation gain… which means, you're going to start to get a bit more tired! Here's you'll be heading up the side of the mountain, en route to the summit!
You'll finish this with a rocky section in which you'll need to follow the dots or arrows painted onto the boulders. There are various parts where you'll need to do some simple, nondangerous "rock climbing / crawling on, over, around".
Leaving the rocks behind, you've got about 20 minutes before hitting the false summit. Don't let the flag or wooden post trick you, this is not the summit!! It's just a few minutes more walking to the left.
Following the path, you'll get to a rock pile adorned with a plaque that lets you know that you've finally arrived at the Cerro Provincia summit. Nice work!  A few meters below, there's a dome up for free use, which is great for cooking, sleeping, etc. If there's no space inside, there's plenty around to set up camp. Just make sure to be a good mountaineer and leave everything as you found it, or better!
From the summit, you have a fantastic view of the tallest view in the San Ramón range, Cerro El Plomo, as well as the coastal mountain range, Cajón del Maipo, Cerro San Ramón and Cerro La Cruz.
If you've got a good pace, you'll arrive to the summit in 3-5 hours, although if you're not used to climbing or less active in the workout department, it could take a bit longer (up to 7). The way down will require another 3-5 hours, so as a best (safety) practice if you haven't summitted by 2:00 pm, it's advisable to head down and try again at another time.w that you've finally arrived at the Cerro Provincia summit. Nice work!  A few meters below, there's a dome up for free use, which is great for cooking, sleeping, etc. If there's no space inside, there's plenty around to set up camp. Just make sure to be a good mountaineer and leave everything as you found it, or better!
Free Tool: Give Notice Before An Outdoor Activity
Before going to the mountain, or doing any outdoor activity, it is important to give notice. This ensures that you can effectively and efficiently be found in case of an accident or emergency.
This tool lays out what critical information needs to be included and has a PDF you can easily fill out and send to your emergency contacts.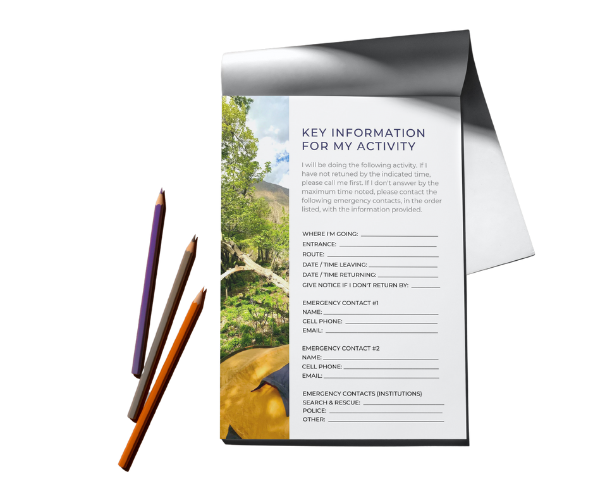 ¿When can you climb Cerro Provincia?
You can climb year round. However, due to heat, it's best to climb from fall to spring, ej: April to November. If you climb in summer (December to March), take into consideration the tips mentioned above: leaving early, carrying 4 or more liters of water and protecting yourself from the sun with a hat that covers your neck, chapstick with SPF, and frequent application of sunblock 50 SPF on any part exposed to the sun.
¿How do you get to Cerro Provincia?
If you go in your own vehicle, head towards Farellones via the highway G-21. Once you get to the km 4,5 you'll see the first sign on your left, about 1 km after that you'll find the park entrance on your right, and 500m later you'll be able to park and register at the ranger's booth. You start from the Ñilhue Bridge.
If you go on public transport, take the metro to Los Domínicos. From there, take the C-02 bus and get out at the San Carlos de Apoquindo stadium.
Purpose-driven people who feel compelled to make life meaningful for yourself and others.
Outdoor-inspired people whose best self comes alive when experiencing beautiful places and pushing your limits in the open air.
https://www.youtube.com/watch?v=o5VBxBoZRa4
FIND YOUR NORTH
EMBRACE YOUR NORTH
LIVE YOUR NORTH