Cerro Purgatorio is located outside Santiago and accessed from Pirque. The climb is perfect for a one-day trip, taking 6-9 hours round trip. It has an elevation of 2,458 meters (8,064 feet) and is not a technical climb, but has a rocky summit and requires free climbing during the last stint.
Another beautiful Saturday in the books. I'm so grateful for my close proximity to the Andes mountains! Cerro Purgatorio is a fantastic mountain to get out for a day trip and put your body to the test.
Cerro Purgatorio in stats
Altitude: 2,458 meters; 8,064 feet
Elevation Gain: 1,671 meters; 5,482 feet
Distance: 14.8 km; 9.2 miles
Time: 6-9 hours round trip
Difficulties: steep, last stint is very rocky and requires good foot work and confidence climbing over rocks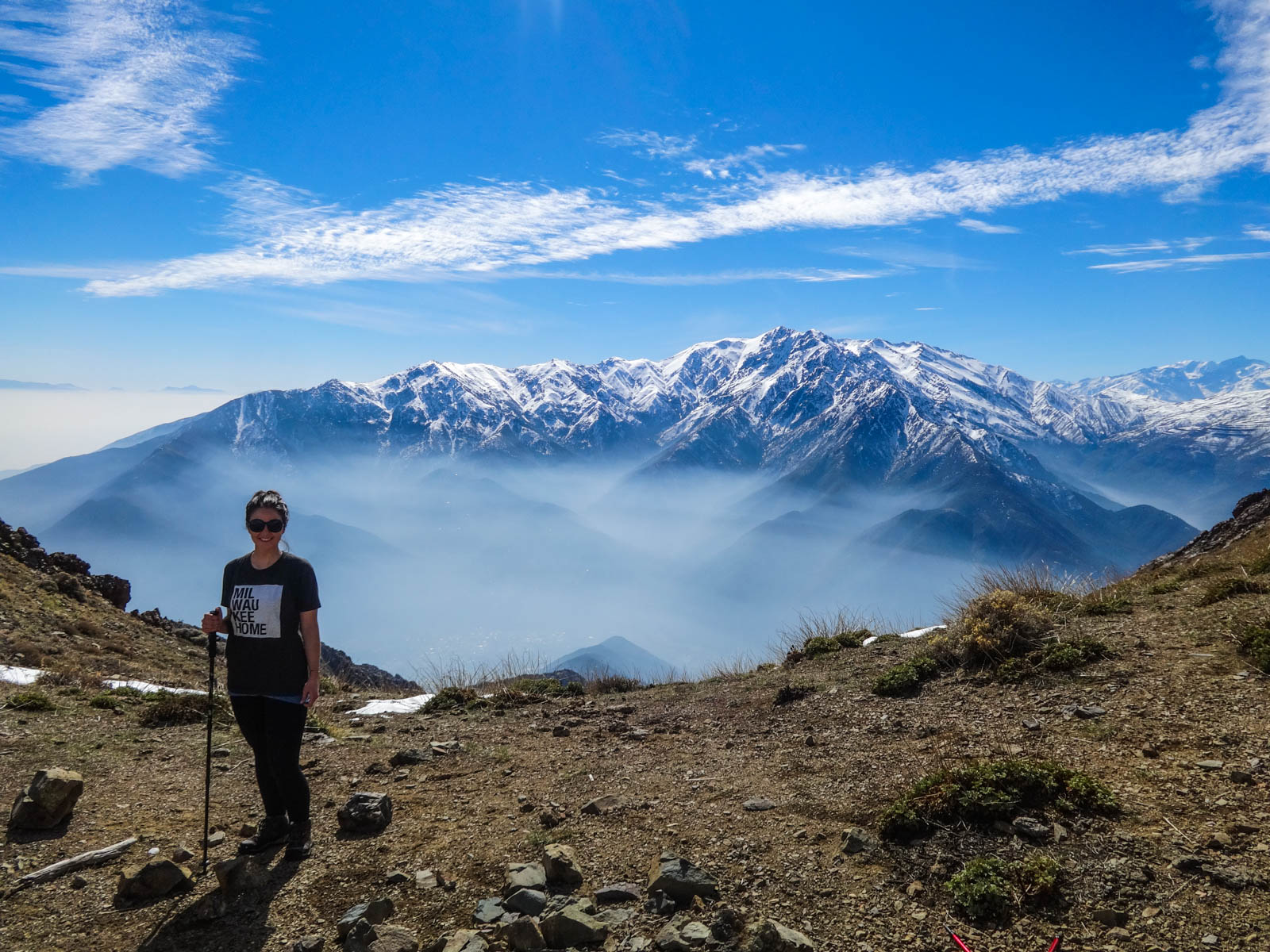 From where we left our cars (see below on driving directions), we started heading up and were on the lookout for a larger flat space to stretch. That first 20 minutes warm you up quickly and give you an idea of what's to come. If you head during summer or spring, you'll shed layers quickly. Our stretch spot was incredible, the rain that week had left the vegetation as green as ever and the clear day revealed the picturesque Andes mountains.
After you get your legs warmed up, it's important to take a moment and stretch and drink water.
A beginning with lush vegetation
The first part of the trek has a lot of brush, loose rocks, and rough ground with a pretty constant incline. Trekking poles help a lot here in terms of balance and extra support when having to take larger steps through thick bushes. As you move up it gets less green but there remains a lot of shrubbery that accents the skyline nicely. It is a windy, narrow path that at times is hard to see due to the greenery.
The first part up is very green and with lots of shrubbery.
I prefer to maintain a steady rhythm instead of taking mini-breaks. It helps my muscles keep going without getting tired and gives me the alertness to always be looking around and appreciating my scenery.
However, about an hour and a half in, you come to a nice, open "rest point".  From here, you can the Sierra de Ramon to the North and also Cerro Minillas. I had climbed Minillas a couple of weeks before, and it's always a pretty cool feeling to look at a peak and know you've been up there, standing on top of it. Cerro Minilla is the second peak from the left, right above my head. Awesome!
It's always so exciting to see what the sight over the next ledge holds <3
In these mountains near Santiago, it's quite common to find dogs that accompany you up to the top. We had the cutest one following us this day, and I always gave him some water when I took some sips for myself.
Free Tool: Give Notice Before An Outdoor Activity
Before going to the mountain, or doing any outdoor activity, it is important to give notice. This ensures that you can effectively and efficiently be found in case of an accident or emergency.
This tool lays out what critical information needs to be included and has a PDF you can easily fill out and send to your emergency contacts.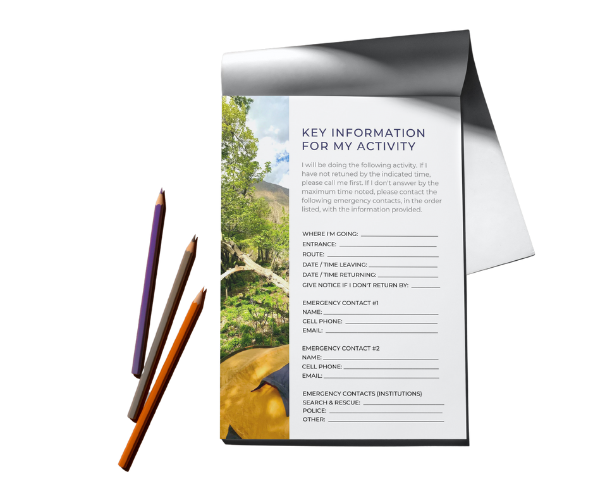 Sharp inclines with ups and downs
From here you continue on a clear path of sharp to mild sharp slopes with climbs up and down various hills on the mountain. At one point, looking at the mountain behind me, we had to go down a bit and then around to its other side, before continuing our ascent. The bulk of the terrain up until the next checkpoint is loose, small rocks followed by larger rocks, but at least on a nice, clean path.
See the snow up towards the top? Mountains are so deceiving, from down below, everything looks short and easy, which is never the case when you arrive!
The loose rocks are very tiring as you have to be careful where you step and, too frequently, one step forward makes you lose some ground with the sliding stones. The mountains on this side of the mountain are smaller, standing silently powerful below their taller, snowcapped sisters on the other side.
A rocky final push to the summit
From here you still can't see the next section, as you have to cross a small jagged section first before accessing the other side. When we got there, I just looked up and thought, "hmmm, this will be difficult." It was all snow and quite steep. It had recently snowed just a few days prior, which meant we had a lot of fresh, soft snow to plow through. Some sections were more icy, so we had to dig the soles of our boots in with each step for extra traction.
I slipped a few times into the snow, but, my heart was pounding and I was damn hot, so freezing snow didn't feel too bad.
Until I got to the last step, about an hour later, I wasn't able to see the sight that was to come. It was breath-taking and I didn't expect it. This is precisely why people climb, what a reward!
The top section takes about 40 minutes and, like the rest of the mountain, is fatiguingly steep. But, the rock climbing makes it a bit more fun!! There are slicker parts where you climb from one large rock to another, and others where the ground is covered in smaller sedimentary rocks and requires a bit more leg work.
As always, reaching the summit quickly fades away the memory of all the work it took to get there. Lunch with this view is always renewing, humbling, and utterly peaceful. The ascent took 4.5 hours and the decent 3. The first part with the snow was super fun, as I simply "skiied" down, with my cute little follower by my side.
If you're lucky, you'll back down to the open stretching spot just in time to appreciate a perfect sunset.
How to get to Cerro Purgatorio
Located in Cajon del Maipo and accessed from Pirque, this mountain is very accessible from Santiago even via public transportation. You head towards Cajon del Maipo and veer to the right after the Los Vertientes sector, which will cross the Maipo river. At a later intersection, you turn right and head a few more kilometers before arriving to a small school in Pirque.
If you go on public transportation, take the Santiago metro until Bellavista de la Florida and from there take the 73 bus to Pirque. In total, it is about 2 hours from Santiago, a bit longer if not in your own vehicle.
Finish your hike with a nice stretch under a gorgeous sunset
You can climb Cerro Purgatorio all year round. However, it is highly exposed to the sun and has no water, so climbs during December – March can be very hot. The climb is quite steep, so crampons and piolet would be advised during winter months with snow and ice. We went out during the month of August, towards the end of winter, and were blessed with an absolutely beautiful day.
Gotta love the contrast between the bright green, sky blue and snow-capped mountains.
Purpose-driven people who feel compelled to make life meaningful for yourself and others.
Outdoor-inspired people whose best self comes alive when experiencing beautiful places and pushing your limits in the open air.
https://www.youtube.com/watch?v=o5VBxBoZRa4
FIND YOUR NORTH
EMBRACE YOUR NORTH
LIVE YOUR NORTH