After 11 days of pushing her body and mind to the breaking point, it's no surprise that when Chelsey Berg neared the summit of the highest mountain in the Western Hemisphere in January, she broke down in tears.
A mixture of joy, relief and extreme exhaustion have that effect. Berg, a Watertown native, was climbing Argentina's Aconcagua, at 22,842 feet the highest mountain outside Asia and one of the world's Seven Summits, a collection of the highest mountains on every continent. She hopes to eventually climb them all.
Aconcagua is a long way — horizontally and vertically — from Milwaukee, where she lived after graduating from Marquette University. But she carried Milwaukee with her — a photo shows a beaming Berg standing at the top of the Western Hemisphere holding an American flag and a Milwaukee Home shirt.
Berg, 30, said only about 30% of those who climb the Andean mountain are successful in reaching the top. While it's not a technical climb (no ropes), weather conditions are brutal, with temperatures regularly dropping below minus 20 degrees and winds topping 60 mph. Altitude sickness is a real threat as well — lower oxygen levels at higher altitudes can cause headaches, dizziness, nausea and even a life-threatening buildup of fluid in the lungs or brain if a climber ascends too quickly.
My "Word Cairns" newsletter sends inspiration, tips, stories, and photos from wild corners of this world. Plus, you'll be the first to know about new expeditions, activities, and special offers.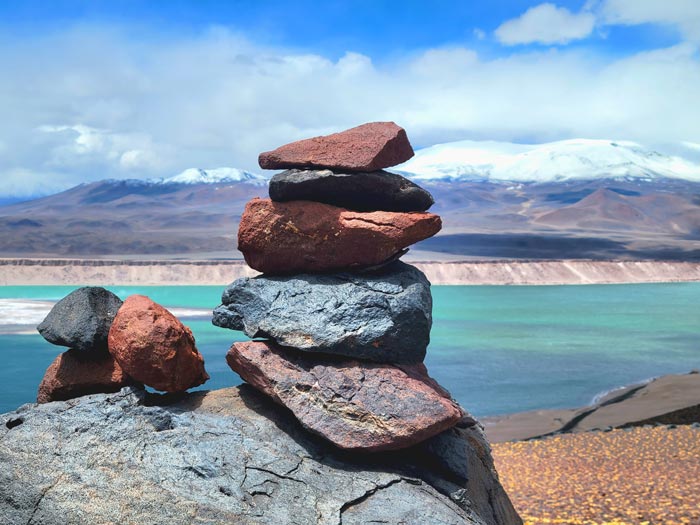 Aconcagua is open for climbing about mid-December through mid-March, during Southern Hemisphere summer.
Berg arrived in Mendoza, Argentina, on Jan. 12 to acquire permits (only available in person) and began her trek with a partner the next day.
But her journey started long before then.
When she was a kid, Berg's grandfather would take her camping in the mountains far from her Watertown home. Her great uncle was also an outdoorsperson, a mountaineering guide in California. He climbed Aconcagua in 1974 but was turned around by altitude sickness below the summit.
Berg said he was part of the reason she decided to climb the mountain. But it was also a personal mission.
"For me, it's addictive to put your mind and your body to the full test," she said.
"There are many times when you feel like your body cannot take another step, and that's when your mind needs to click in and you say, no, I can do this, I can do this, and you realize you can.

And you can achieve things that you really feel like you can't do. It is quite addicting to be pushed physically, mentally and emotionally to your absolute limit and to find out that there's more.

Chelsey Berg
For Berg, one of those moments came on summit day, Jan. 23.
"I was two hours in, and I'm like, I've got eight hours left, and I am so freaking tired and I am starting to not feel my fingers and I am so cold and I haven't even started," she said.
"But then right at that minute, the sun started rising and the sunrise was so beautiful, and there was a reflection. Aconcagua, there's nothing that covers it, so there was a reflection on the other side of the sky, of Aconcagua. It's moments like that that Mother Nature gives you that little extra push that you need and you're like, I can do this, I can do this, and you go."
From Marquette to the mountains
As a sophomore at Marquette University, Berg studied abroad at Pontificia Universidad Catolica de Chile, one of Marquette's sister schools in Santiago, Chile. After graduating, she stayed in Milwaukee and was involved with groups like NEWaukee and Art Milwaukee. Between jobs, she backpacked around South America. In 2012, she decided she wanted to live abroad and really learn Spanish, so she moved to Santiago permanently.
The city is situated in a bowl in the middle of the Andes mountains.
"When I got here to Chile, I was walking around the city and (the mountains) were always in my face and I said, well I want to be up there, I want to climb that, how do I do this?" Berg said.
She started climbing up to 10,000 feet, then 11,000 and higher. She joined climbing groups, always looking to befriend the best climber to help her get better.
"About a year ago, I said this little idea of mine, of Aconcagua, is now possible," she said.
She began taking more formal, technical courses in areas like self-rescue, rescue of others, ice climbing, rock climbing, rope management and wilderness first aid.
Six months before her trip, she started an intense training regime that included cardiovascular exercise and weightlifting in a gym during the week and long routes in the mountains on weekends two or three times a month.
"I wanted to train well because I said I don't want my body to be the reason that I don't make it. If I don't make it, I want it to be because the weather was so bad that Mother Nature didn't let me," she said.
The preparation paid off on the mountain.
"The truth is I was so happy all the time," she said. "I had prepared physically very well. I would say I felt great."
But there were tough moments, of course.
Three days into their journey and about four hours before Berg and her partner reached base camp at 14,400 feet, they got news that a climber had died of a heart attack just short of the summit the day before. Another climber would also perish on the mountain, from an edema, over the course of their journey.
"That was definitely an intense moment, to think about it. I had four hours left of climbing in order to get to base camp and those entire four hours I was thinking about that," Berg said. "It was a reminder to me, pay attention to your body, pay attention to the climate, you have to know when you can't go."
After Berg and her partner left base camp, the weather would be one of their biggest foes. Snow and high winds battered the pair between the mountain's higher camps. At Camp 2, at 18,000 feet, they ran into some South Africans they had met earlier. The South Africans had tried to porter some gear up to Camp 3 but decided the deep snow was too much and were heading back down the mountain.
"That was for me, very emotionally intense, because it made the summit feel in question for the first time," Berg said.
Then Berg's partner fell ill from altitude sickness and fatigue, and even after a day of rest decided he could not continue.
He was well enough to make his way back down the mountain on his own, so Berg decided to continue on with another group that was heading to Camp 3 that day.
Berg did the trek without the support of a guide or porters, only using mules to help haul some of their gear to base camp. From there, they had to make multiple trips between higher camps to move their 100 pounds of gear — trekking half of it up one day, going back down to sleep, then hauling the rest up the next day.
At Camp 3, Berg woke at 3 a.m. to prepare for a 4 or 4:30 a.m. departure to the summit. Winds kept the group in their tents until 6 a.m., when they finally set out on their nine-hour journey to the summit.
"The idea is you have a rhythm that is slow enough that you don't stop (and get too cold). It's literally like a turtle," Berg said. "At points you don't even think, it's literally, OK, one foot, next foot, one foot, next foot, this is beautiful but I'm cold."
"I cried the last half an hour, because the summit day is so long," she said. "It was very exhausting. The thing with Aconcagua is you keep having long, long routes that you can never see a finish. So when I finally saw the last 30 meters — which was all the last tip, it's more like a rocky part, less snow — I literally just started crying."
Berg said she figured the mountain would probably "close," meaning storms would roll in making it impossible to summit, by 3 p.m. That's when she reached the summit, 11 days after she started climbing and about half an hour before the storms arrived.
"I got to the summit and I could see the clouds rising, and I was up on the top and it was incredible. … I was above every mountain, I was above the clouds, I was above everything, and it was the most incredible moment of my life," she said.
She snapped photos and left a little piece of her uncle in a box there, so he could finally reach the summit as well.
After a well-deserved night of rest back at Camp 3, it was back to base camp the next day for pizza and wine at the camp's "restaurant." Then a final day of hiking out of the valley.
Berg already has her eyes set on her next of the Seven Summits: 19,341-foot Mount Kilimanjaro in Tanzania. Then probably Elbrus in Russia and eventually the tallest mountain in the world, Everest.
"Aconcagua made me realize that if I train, none of that is out of reach," Berg said.
Berg documents her journeys and has tips on climbing Aconcagua on her website, findingthenorth.com. 
Purpose-driven people who feel compelled to make life meaningful for yourself and others.
Outdoor-inspired people whose best self comes alive when experiencing beautiful places and pushing your limits in the open air.
https://www.youtube.com/watch?v=o5VBxBoZRa4
FIND YOUR NORTH
EMBRACE YOUR NORTH
LIVE YOUR NORTH